Companies know that a presence in search results is important to build corporate awareness, but how can you influence natural search results for your company outside of optimizing your website? This two-part series will discuss how PR affects SEO, and what steps you can take to get lasting SEO results with PR efforts.
Our 2017 Smart Marketing for Engineers research revealed that nearly 60 percent of an engineer's buying process occurs online, heavily on search engines and vendor websites. You probably already know that your online presence is critical to building awareness and credibility for your company. But did you know using strategic public relations (PR) to increase third-party validation of your company can greatly increase your company's search engine optimization (SEO) presence by building quality backlinks and third-party coverage that drive traffic to your website?
There are many ingredients to search engine optimization, but one of the most important is third-party validation, also known in the SEO world as backlinks. For Google, backlinks to your site are far more important than any other factor in their ever-changing search results algorithm. And it's not only the quantity of links pointing to your website, but the quality of them.
By focusing on PR efforts like wiring news releases with your key words and phrases, and reaching out to journalists to gain coverage of your company or products in respected industry publications with high-quality Google scores, you can create quality backlinks to your website. These backlinks both get your name out in front of new audiences through new outlets, and strike an SEO goldmine with search engines.
In the past, the primary focus of PR efforts was to get journalists writing about your company or your products so that the magazine or newspaper's subscriber base would see your company's name and story. You'd build a brand over time, one article at a time. Now, the same remains true, but in an accelerated mode as that has expanded to the magazine's website and related blogs. Readers can do a quick Google search and see most all of the articles written about you at one time.
By securing PR-related coverage about your company or your products, your story from a third-party source can be a top-level result when a potential customer searches for your company.
After extensive press outreach and a press tour to meet with journalists around the country, a search for ADLINK populates extensive third-party validation from a news release and coverage in top engineering publications:
At TREW Marketing, we want potential clients to see third-party validation from news stories when they search for us on the web. We know that we can tell our story well, but when someone else is willing to affirm our success or services, it brings valuable third-party credibility.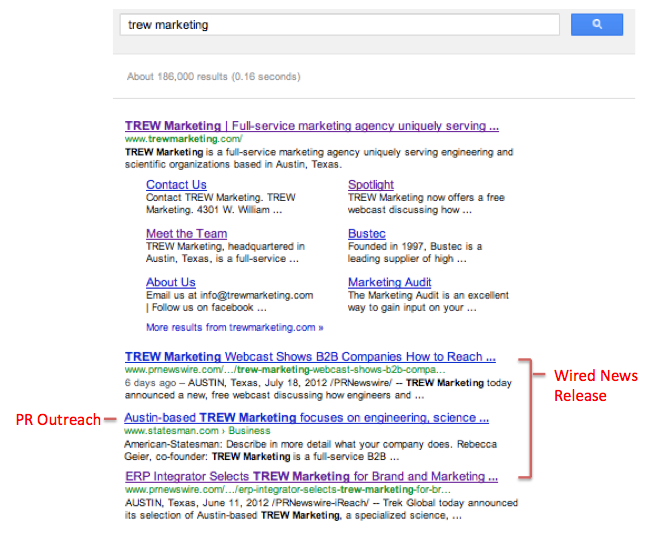 These news releases we've wired and coverage we've secured become valuable third-party references and sources for our message, and provides further credibility for our website and the terms we've used within our web content.
In Part 2, we'll discuss three steps you can use in your PR program to build quality search results.
Related blog posts:
Five Practical SEO Tips for Promoting Your Website
How Strategic PR Boosted One IT Company's News Coverage by 125%