Buyers perform extensive research online before purchasing products and services, proportionate to the complexity of the purchase, and we know it is critical for companies to be found online and to nurture leads. In his October 2013 article, Ian Brodie, Author and Marketing Coach at The Rainmaker Academy, states, "The more expensive, the more complex, the more important, the more risky that the purchase is, and the less that your customer already knows about you; the more it takes before they'll be ready to buy."
You may be wondering, how soon should you follow up with leads after they provide their contact information? And, how many leads become opportunities when they are nurtured with content?
It is imperative for companies to acknowledge leads immediately. Marketing automation software such as HubSpot simplifies this first step and effectively informs a lead nurture program.
Key stats you should know about why companies need to nurture leads:
Most leads (up to 95%) are not ready to talk with a sales rep at their first visit. (Brian Carroll, author of Lead Generation for the Complex Sale)
75% of leads do not become sales, largely due to a lack of nurturing. (MarketingSherpa)
Companies that nurture leads make 50% more sales at a cost 33% less than non-nurtured leads. (Forrester Research)
Nurtured leads make 47% larger purchases than non–nurtured leads. (Annuitas Group)
Marketers see an average 20% increase in sales opportunities from nurtured vs. non-nurtured leads.(DemandGen Report)
In the Slideshare presentation, New Benchmarks & Insights Into Lead Nurturing, marketing experts Jon Miller and Corinne Sklar present insights into lead nurturing best practices.
The majority of marketers nurture leads 3-4 times during the lead nurture process.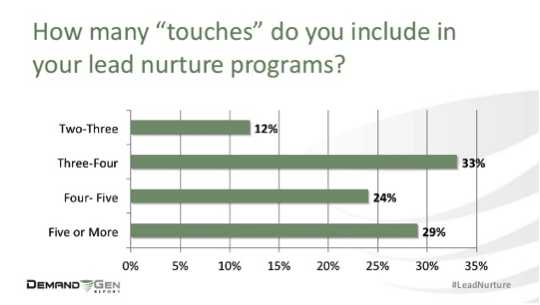 Without overwhelming buyers, marketers can nurture prospects with information that will help them make informed decisions, and remind them of what your company offers. In this process, marketers educate buyers, saving them (and our sales teams) precious time.
Most marketers reach out to prospects every other week, or weekly.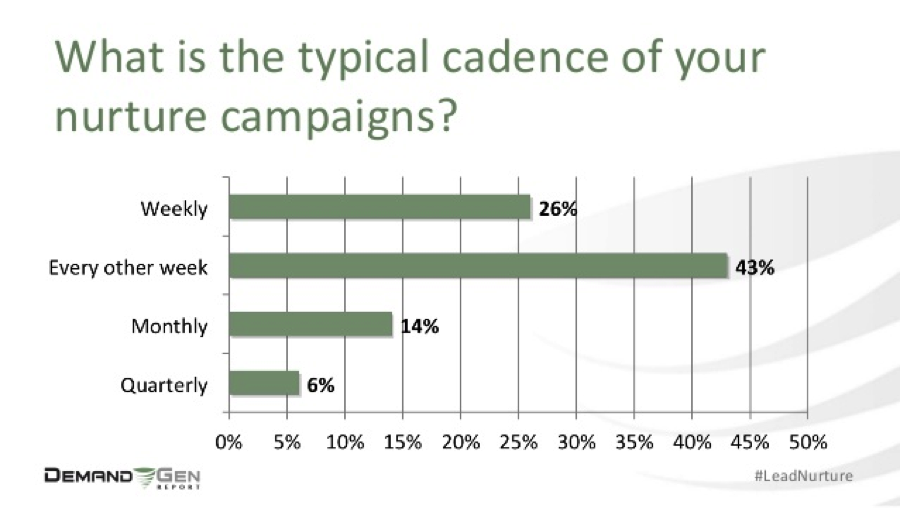 Marketers cite the biggest benefit of lead nurture campaigns is generating warm sales-ready leads, making it much easier to talk with a sales-ready buyer vs. a prospect who is still performing research and is not ready to talk with sales yet.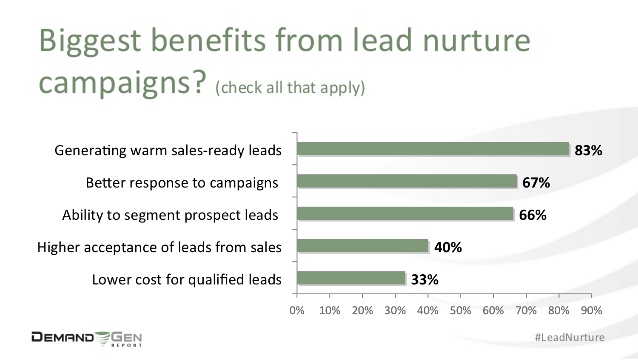 Need help getting started with your lead nurturing campaign? Download Inbound Marketing: 5 Keys to Generating Leads on Your Website, or contact us.
Related blog posts:
Build a Lead Nurturing Campaign in 10 Easy Steps
Marketing to Human Engineers – Big Ideas from INBOUND '13