'Tis the season to be thinking of the year ahead. What do you want to accomplish? Where do you want to be next year at this time? How will you get there?
Goal setting is critical to aligning your marketing organization, narrowing your focus, and setting your overall marketing strategy. But the types of goals you set and how you arrive at those goals determines the success of your goals and overall marketing efforts.
When we're creating a marketing strategy at TREW, there's a lot of heavy lifting that happens before we ever start talking about marketing goals. Here are three steps to take before drafting your goals to ensure that you end up with the right marketing goals to drive results.
Step 1: Review Your Business Strategy
In order for marketing to help drive your business and meet your top-level goals, your plan must be aligned to business priorities. Start by looking at your company's business goals and identifying where marketing can help.
Next, dive into key markets and focus areas, look at the current break out of your revenue by industry or application area and document projected growth areas. Identify industries that need additional marketing focus next year and new markets you plan to target. Just as important as deciding where to invest is identifing any areas of divestment, which will help you divert resources to the biggest areas of opportunity.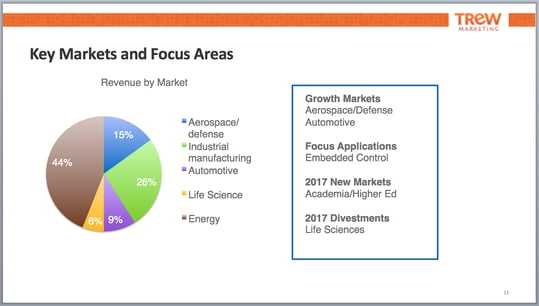 Step 2: Determine Your Current and Future State
Assess your marketing efforts by documenting your strengths, weaknesses, opportunities, and threats (SWOT) related specifically to marketing. This exercise will help identify the areas for improvement or additional investment that will have the most significant impact in the next year.
Based on what you learned from your SWOT analysis, complete a chart similar to the one below outlining where you are today and where you want to be a year from now. Having a clear vision of where you want to get to will help you set your goals and key performance indicators. It also will give you something to look back on in a year and evaluate your progress.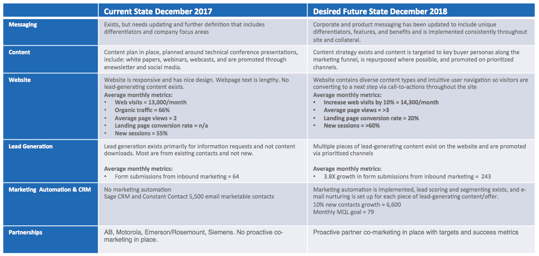 Step 3: Create or Confirm Your Buyer Personas
Finally, identifying your top buyer personas – or confirming that existing buyer personas are still relevant – will help shape your marketing focus and priorities. During this process, you'll determine who your target audience is, what they value most, their biggest pain points, and objections that you'll need to overcome to win them over.
Having a crystal clear picture of who you are marketing to and what they care about most can help you identify gaps and inform your goal setting process. For example, you may find you have some work to do in growing thought leadership around a certain area, that you need to establish brand awareness among a new audience, or that you need to focus on proof points around your core expertise. It also will help you select the right marketing activities to reach them and develop the right content to engage them later on.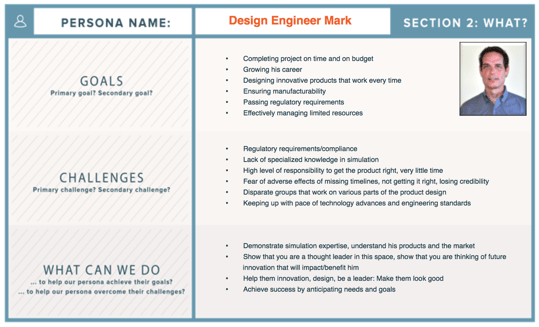 Now You Are Ready to Set Your Goals
Armed with your business strategy, areas of greatest opportunity, clearly defined future state, and deep understanding of your target market, you are now ready to create your marketing goals.
Start by creating 3 to 5 top-level goals. With all the work you've done so far, you'll probably have no problem generating a long list of goals. Often, the hardest part at this point is narrowing them down.
Next, document exactly how you will measure success. If your goal is to grow brand awareness and engagement among design engineers, identify how you will measure that (brand study? Number of design engineers in your database?). Have a clear baseline and numerical targets, and track progress quarterly on your marketing metrics scorecard.
Then, align with sales. Marketing goals should complement and support sales goals and priorities. If sales has not been involved in the marketing goal setting process, ensure there is alignment before finalizing the goals.
Finally, define accountability and dependencies. Who is responsible for ensuring progress on the goal? Is there an executive sponsor? Does success depend on action from other teams, a product release, or implementation of new technology? Considering these things up front and gaining cross-organizational alignment will go a long way in helping you achieve your goals and drive success.
Need an expert partner to help develop your 2018 marketing strategy? Check out our marketing planning service.