December 30, 2015
Case Study: IT Services Provider, MyITpros, Sees 104% Lead Growth in 2015
Since meeting at HubSpot's INBOUND Conference in 2013, IT managed services provider, MyITpros, has been a customer of TREW Marketing's for almost 2 years. Committed to being 100% inbound, MyITpros engaged with TREW to improve upon their content marketing and digital marketing. With the help of TREW's team, MyITpros has:
Doubled their SEO content creation to include a consistent cadence of blog posts and eBooks to increase web traffic and grow organic traffic to almost 50% of all visits.
Redesigned their website to update the user-experience and increase search engine optimization (SEO) ultimately to increase visitors and leads conversions
Increased the value of their investment in HubSpot software through greater leverage of the tools. Including landing pages, forms, CTAs and social publishing to support lead generation and conversions
By implementing this triple-threat of inbound marketing methodologies into their marketing approach, since partnering with TREW, MyITpros has seen continued success in traffic.
"TREW has helped us an awful lot with going even deeper in taking the 1,000 things you could do and prioritizing them in a more meaningful way." – Chris Boyle, CEO, MyITpros
Website Redesign
MyITpros redesigned their website to improve the user-experience, increase search engine optimization (SEO), and implement marketing automation for their content and lead generation using the HubSpot Marketing Platform. They also updated their website to responsive design so their site would be easily viewed and found on mobile devices and to stay current with Google's search algorithm, which penalizes websites that are not responsively designed.
Two years into the redesign, traffic is up 68% and leads 104%. This traffic growth was key to powering MyITpros' lead conversion strategy and scaled efficiently through HubSpot marketing automation.
Content Marketing
With a content plan in place, and utilizing a content calendar managed by TREW's inbound account team, and TREW's staff of technical writers, MyITpros repurposed existing content from their blog to create multiple ebooks that started to fill the middle and bottom of the funnel with lead-generating content. Their most popular eBook is, "How to Hire the Right Managed Service Provider", with an unheard of 16% conversion!
MyITpros' commitment to the inbound marketing methodology shows in their consistent investment in content creation along the funnel, from free traffic-generating content such as blogging twice a week to lead-generating content like their ebooks. The TREW inbound and content teams have worked side-by-side to ensure high-quality content planning, keyword analysis, content development and promotion throughout the funnel.
"We've seen our business improve in the last year of working with TREW in a steady upward trajectory of overall leads and MQLs and SQLs." – Chris Boyle, CEO, MyITpros
HubSpot Marketing Platform
TREW assisted MyITpros in utilizing marketing automation software, HubSpot, for promotion, nurturing and measurement through activities such as direct email campaigns, workflows, reporting and testing, and social media publishing.
Just in the last year, of working with TREW, MyITpros' leads in HubSpot have grown by 104%.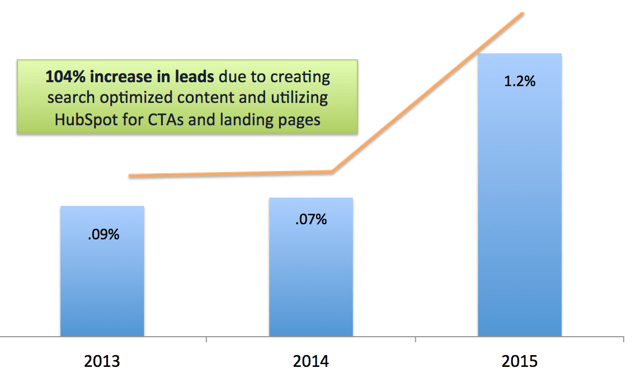 "We use a lot of different tools and have lot of different ideas that were good, inbound marketing tactics, but they were kind of dilapidated and all over the place. TREW brought a strong focus to all the things we wanted to implement." – Lori Mankin, Marketing Coordinator, MyITpros
What's Next for MyITpros and TREW in 2016?
TREW and MyITPros just wrapped up our 2016 Marketing Planning and will continue the focus on creating highly optimized content as well as:
Create bottom of the funnel content to increase conversions of SQLs to Customers to 25%
Create new workflows to delight existing customers and increase reoccurring revenue
Now that they have too many leads than they can follow up with, they will work with TREW to develop a lead scoring model and implement it in HubSpot
In an effort to duplicate the success seen with HubSpot's Marketing tool, Sales will be using the HubSpot CRM beginning January 2016 to manage their pipeline
Continue to invest in their website, their lead generation machine, by evaluating HubSpot COS to take advantage of having one tool to support all their inbound marketing efforts
See the video testimonial from the MyITpros CEO and Marketing Coordinator and take a look at the work TREW has done with MyITpros.
TREW loves working with MyITpros because of their dedication and alignment to Inbound Marketing and HubSpot and look forward to seeing continued growth through our joint efforts. Work with TREW in 2016 for similar growth!
Want to learn more about generating leads from inbound marketing? Download our ebook, Lead Generation for B2B Technical Audiences, to learn more.