A few weeks ago, I got an unexpected email from my colleague, Erin. She congratulated me on my 100th blog post. On the one hand, I had no idea I had written that many posts. On the other, I was kind of surprised it wasn't actually more, as each post takes so much time and thought to keep the quality high.
After writing 100+ posts, I've learned a few things about blogging and regularly creating content. Here are seven tips that come to mind:
1. Don't sacrifice quality just to meet a deadline.
At TREW, we blog twice a week, and we have for several years. While that's great for our brand, SEO and web traffic, it's not always easy to keep up. When it's my turn to write and my plate is full and time is limited, it's been tempting at times to post something sub-par in quality for the sake of meeting a deadline. But I haven't, and we don't.
Instead, we'll get creative to give the author more time. For instance, we may rework our schedule and post a day or two later; find an older post that's performing well, update it and re-post it; or ask if another blog author can get theirs in sooner to give another person more time. Deadlines and blogging consistently are important, but quality is paramount. Strike the right balance on your blog with frequency AND quality.
2. Pull from everyday interactions for blog topics.
In my job, I'm always meeting with people. Partners. Customers. Attendees at speaking events and workshops I teach. They're always sharing their challenges and discussing with me ways they've overcome them, new methods they've tried, and great content wins. Often, I use time back in my office or hotel room after meetings to jot down topic ideas from the conversations I've had that day for future blog posts. If it's really gelling, I may even do a brief outline and brainstorm headlines, images and sources I want to link to. Then when it's time for me to write, I've not only got a few ideas to choose from but often also have a drafted idea that's easy to turn into a full post.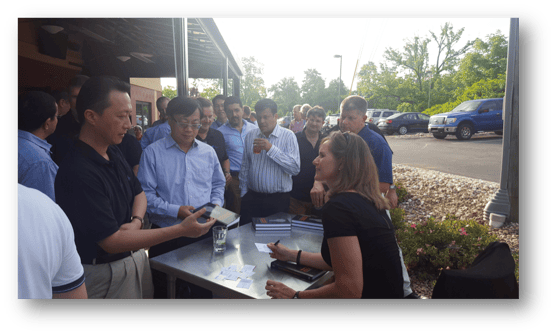 A great source for blog topics is conversations with partners, customers, or readers in this case during a book signing in Pittsburgh.
3. Don't let length trump depth.
There are different opinions about what the ideal length for a blog post should be. I've decided it's much more important to give the right depth to a topic and not let length be the driving force. It goes without saying that if a blog post is 3,000 words, it's going to be hard to keep the reader engaged, not to mention the time it's going to take you to write it.
As a rule of thumb, an average range for word count that we use at TREW is 600 on the lower end and 1,500 words on the higher end. For another opinion on length, read this blog article that includes the most frequent blog length out of 175,000 posts. (Note: for reference, this post is 1,077 words).
4. Don't miss an opportunity to generate leads
.
What I mean by this is to consider if the blog post you are writing is compelling enough to be a gated piece of content (ie, behind a form). Blog posts do not have to be an exhaustive account on a particular issue. They can touch on one aspect of a topic or be a short checklist, and you can point readers to a more extensive piece of content – such as a webinar or white paper – to get a complete understanding of the topic (and generate a lead).
5. Repurpose to create a 10X effect on your SME's time.
Taking the same example with the gated piece of content, consider your blog as you're creating a lead-generating piece of content and how you can repurpose it into other forms of content. For example, when you publish a white paper, consider how you can develop 2-3 related blog posts with a call-to-action that points readers back to the white paper. As the image below shows, blog posts are not all you can create from a white paper – you can also create a webinar, an infographic, and a case study. By repurposing your original piece of content, which required valuable time from your subject-matter expert engineer, you can turn one piece of content into 10 more, creating a 10x effect on your SME's time.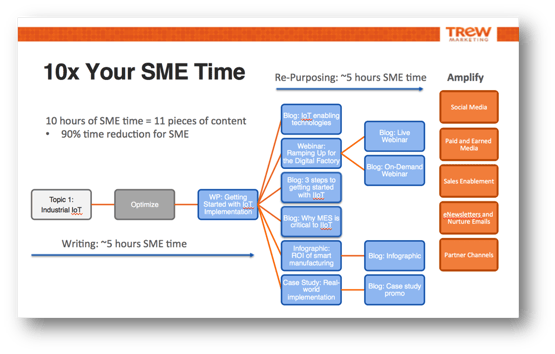 Turn one piece of content into 10 more, creating a 10x effect on your SME's time.
6. Put a ribbon on it – don't forget your call-to-action.
Make sure your work pays off by adding a call-to-action at the end of your post. If you write a great post, readers are going to get all the way to the end. Don't leave them empty-handed – give them the next action to take. For example, as I explained in #5, if your blog post is part of a series that covers one part of a white paper, end your blog post by directing the reader to the white paper for the full story. Other CTAs can be web pages such as related product or services pages, case studies, videos or even other related blog posts.
7. Invite others to share their experience or expertise as a guest blogger.
As you work with customers and partners, consider inviting them to write a guest post on your blog. We do this often and love the sense of community it builds, along with the win-win-win it provides to the guest blogger, our readers and TREW.
For example, our customer Keith Flaherty, President and CEO of Hallam ICS, wrote a guest blog post on his experience and results from implementing inbound marketing at his systems integration company. His post is a valuable reference for other business leaders who are considering adopting inbound marketing; it's valuable for Hallam as it shows their customers and employees their commitment to investing in their future; and it's wonderful for TREW to have our client share his experience working with our team and the results he's achieved.
---
Have you written 100 blog posts or more? Have other tips to share? Leave a comment so we can all learn together. Want to learn even more about how blogging can fuel lead generation? Download our Smart Marketing for Engineers: Lead Generation ebook, which has just been updated.