'Be Brave: Say No to Grow': TREW Marketing's Rebecca Geier Shares How Narrowing Business Focus Widens Potential for Success
This week at Content Marketing Institute's Intelligent Content Conference, Rebecca Geier, CEO and Co-Founder of TREW Marketing and author of Smart Marketing for Engineers, will deliver a keynote address titled "Be Brave: Say No to Grow". Through straightforward techniques and real-world examples, Geier challenges marketers to distinctly position their organizations, thoroughly define their buyer personas, and go deep with content to effectively compete for consideration and trust.
As marketing channels become more accessible and increasingly crowded, companies tend to think that sharing more information to more audiences with more messages more often will bring more sales. Geier's approach, however, states the opposite: By bravely positioning your company with focus, shifting to a buyer-centric approach to messaging, and going deep on persona-specific content, you spend valuable time creating the exact resources your potential customer seeks as they make buying decisions. You become the guide they need to navigate other clutter, understand critical factors in their decision, and build trust in your company as an expert who understands their needs.
A Proven Strategy
After only a year in business, and facing the Great Recession of 2009, Geier and TREW Co-Founder Wendy Covey had a decision to make – keep taking ad-hoc referral clients as they came, or make a strategic decision to focus. They made the critical decision to say NO to many prospective customers for TREW Marketing and YES to a focused, growing, sustainable business.
"We decided to focus and become the smartest, most collaborative marketing agency serving engineers," said Geier. "That decision to SAY YES to B2B technical companies, and SAY NO to nonprofits, hospitals, and other organizations we worked with in the past that fell outside this niche helped us grow our brand and now shapes how we advise clients."
Almost 10 years later, the company is thriving. TREW Marketing is a full-service marketing firm in Austin, Texas serving B2B companies in engineering, science and technology. Named by The Wall Street Journal among the Ten Most Innovative Entrepreneurs in America, Geier leads TREW Marketing's teams to help clients build strategic, data-driven marketing programs using an inbound approach to get found online, drive web traffic, generate demand, and build high-performing pipelines that drive revenue. The agency also releases annual research to help companies understand the buyer's journey from the prospective of the highly technical customer.
2018 Intelligent Content Conference Keynote
At 10:30am Wednesday, March 21 during Content Marketing Institute's Intelligent Content Conference, Geier will deliver a keynote to 350 marketing practitioners at leading enterprise companies.
"The ICC audience is particularly savvy, and looks for sophisticated and innovative solutions to the toughest content strategy and marketing challenges," said Robert Rose, Chief Strategy Officer of Content Marketing Institute. "We knew Rebecca would be ideal for this audience. Her experience in highly technical industries, and the ability to help digital marketers discern the signal from the noise when it comes to strategy will be an important part of our educational agenda."
Following the keynote, Geier will be available for a signing of her book, Smart Marketing for Engineers: An Inbound Marketing Guide to Reaching Technical Audiences.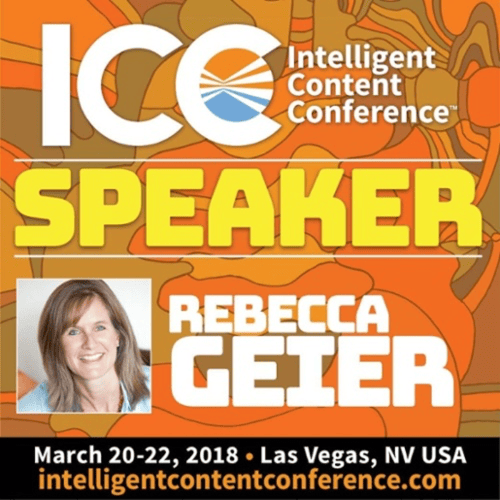 About TREW Marketing
TREW Marketing headquartered in Austin, Texas, is a full-service marketing firm uniquely serving B2B companies in North America and Europe that target technical markets. With extensive research and deep experience in the embedded, control and automation, test and measurement, and deep technology industries and a Gold HubSpot agency, TREW Marketing provides full-service marketing services from strategic marketing planning and brand positioning & messaging to content marketing, web redesign, and ongoing execution services that help customers efficiently and effectively achieve their business goals. For teams looking to do marketing in-house, TREW senior staff lead onsite marketing workshops customized to each company's specific needs.