HubSpot continually releases new functionality to both their CRM and marketing automation tools in order to stay competitive and up-to-date with changing technology requirements while maintaining their affordability for SMBs and start-ups.
Here are the most recent updates to the tools:
1. Pinned Notes in HubSpot Sales CRM
The HubSpot contact profile is shared between the Sales and Marketing tools. Every website interaction, email history and notes are tracked on this profile. You are able to turn on filters to see the activity that you are looking for such as "Notes". By default these items are listed chronologically with the latest activity at the top.
Because it's listed chronologically, you might have to scroll quite a bit to find the note you are looking for. Now, you can "pin" the most important note to the top of the record by selecting "Actions" -> "Pin". Note: You can only pin one note at a time.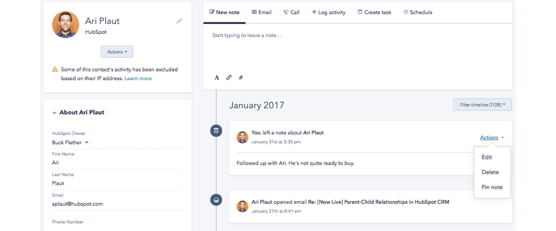 2. Access to free Shutterstock Images from within the File Manager
It is a best practice to include visuals such as supporting images on web pages and blogs. This imagery is essential to guiding your readers through your web content and aides in helping them quickly understand the message.
Not all of our clients have the budget or resources to create their own imagery either with graphic design or photography. So having access to a library of 60,000 free images is not only cost-effective but convenient.
Pro Tip: Be sure to optimize your alt-tags for search using your targeted keyword.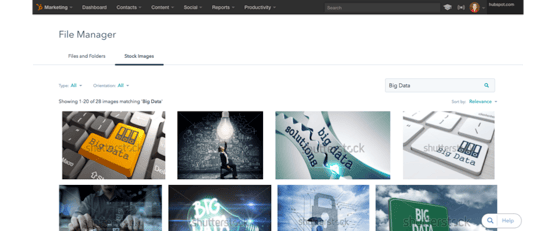 3. Future Date Property Criteria in List Segmentation
This update gives HubSpot users the ability to create custom contact properties that will allow us to segment contacts based on a future date. This opens up a lot of opportunities for dynamic lead nurturing or smart web content based off contract expiration dates for renewing contracts.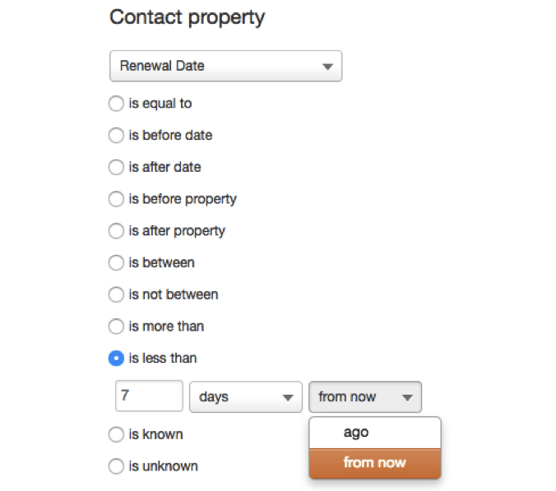 4. Emojis in Subject Lines
The past Valentine's Day, I am sure you received at least one email with a heart in the subject line. While some may feel like this new visual way of communicating is only for millennial text messages, it is a great tactic for standing out in the inbox. It catches our eye and our brains are able to process the message faster with the visual cue.
Engineers might not use the winking face emoji in their subject lines but we can definitely see them using emojis that represent industries and technology of their customers.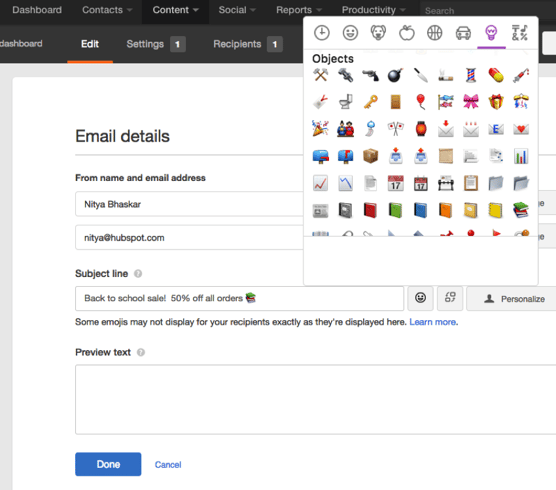 5. Parent-Child Company Relationships
This particular functionality has been a long time coming in HubSpot. Our clients that sell into large, global manufacturing companies where from plant-to-plant may have different needs based on what they are producing or perhaps decentralized business units it was difficult to use the CRM because it lacked this functionality. Previously, HubSpot had a 1:1 relationship from contact to company based on email domain name. There was no way to separate out divisions of a company. Now you can associate contacts to divisions, which roll up to one Parent Company. This will allow the child companies to have their own group of contacts and HubSpot owner. There is still a lot of manual effort but it seems like functionality clients of HubSpot's have been clamoring for so they will surely continue to develop and improve this functionality.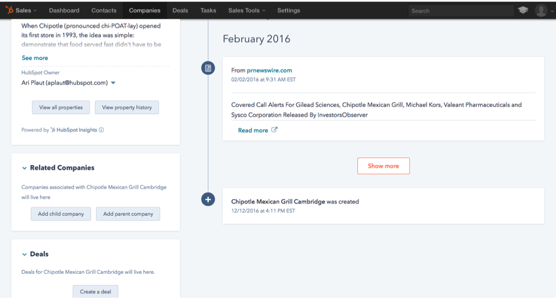 TREW recommends that all of our clients have a marketing automation and CRM in place in order to convert leads from your website, nurture them into sales-ready leads and track their progress through a sales cycle. Learn about our marketing automation services and how we can help.