2 min read
Highlights from Content Marketing Workshop for System Integrators
Last week TREW Marketing held a half-day Content Marketing for Engineers workshop as part of the CSIA Executive Conference in beautiful Asheville, North Carolina. Presenters Wendy Covey, TREW CEO, and Jennifer Dawkins, TREW Account Director, took a hands-on approach to educate on content marketing industry trends backed by new research, discuss best practices for writing and promoting technical content, and guide attendees in creating their own content marketing plan.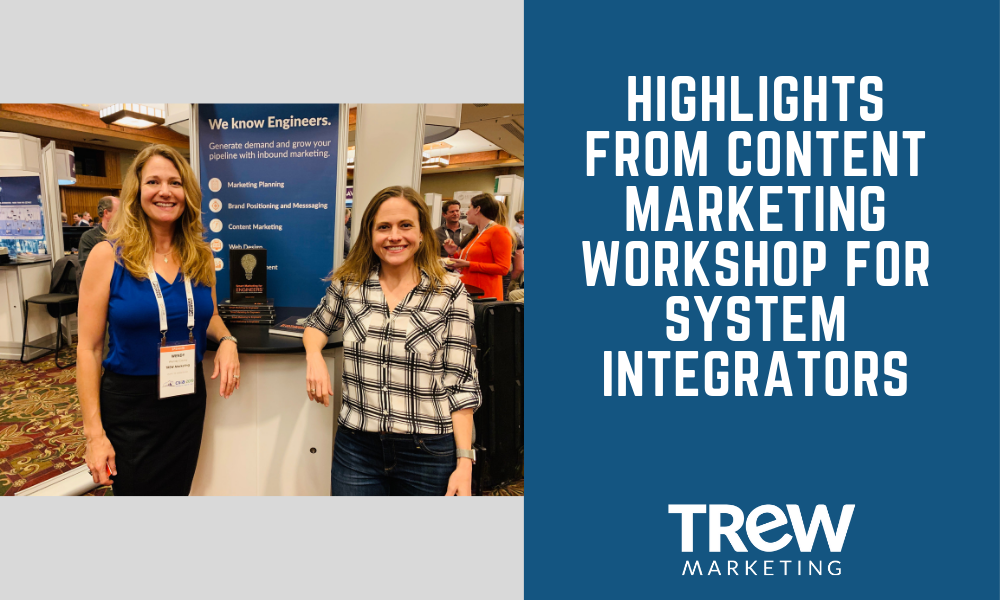 Workshop attendees ranged from small system integrators to large IIoT product companies. Here are a few things they had to say about the workshop:
I plan to adopt TREW's prescribed method and framework for content planning and search engine optimization, rather than just randomly writing on topics that are top-of-mind.
Creating enough content seemed daunting for my small company – I'm glad to have ideas of how to repurpose content to stretch my resources further.
I was very hesitant about putting any of my content behind a form, worried that it will detract prospects from my website. It was enlightening to see the industry data about what form fields engineers are willing to fill out.
It has been difficult for me to know what is/isn't working with my marketing efforts. Marketing automation software can help give me more visibility and also give context to sales.
During the CSIA Exhibition,and Wendy and Jennifer met with TREW clients, partners, and colleagues as well as several new system integrators seeking to learn more about inbound marketing. Many purchased TREW's book, Smart Marketing for Engineers: An Inbound Marketing Guide to Reaching Technical Audiences.
Interested in learning more about creating a content plan for you technical business? Check out this Webinar, Trends Tips and Best Practices for Building a B2B Content Marketing Plan.
TREW Marketing offers workshops spanning numerous topics, including marketing planning, content marketing, and sales enablement.