As the holiday season is upon us, we are so grateful for all the amazing clients and partnerships we have had this year. It's been a busy and successful year at TREW Marketing, and we have so many exciting things to look forward to in 2020.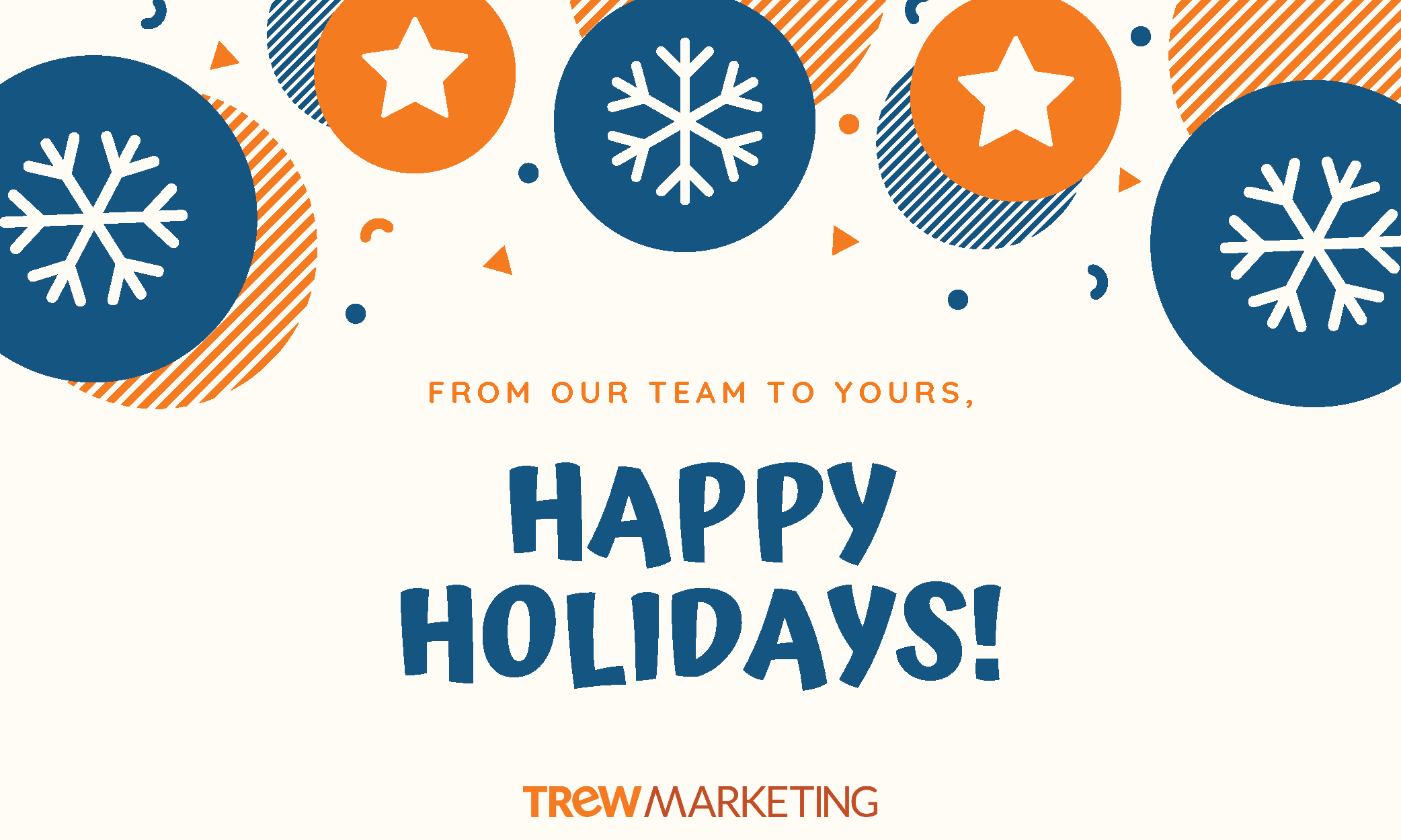 In the past, the TREW crew has shared some of our favorite holiday traditions, and this year we'd like to share the organizations our team members enjoy supporting.
Wendy Covey
CEO of TREW Marketing
Our family is blessed with good health, but many children and adults (and the families that support them) have long struggles with mental and physical challenges. The RED Arena uses equine therapy for healing, focused particularly on children and veterans. For close to a decade, our family gives our time to do a bit of everything from fundraising and marketing to painting and serving BBQ in concession stands.
---
Lee Chapman
VP of Account Services
Over the past eleven years, I've volunteered as board member for Green Doors. I became passionate about the mission of this organization because of the unique way in which they serve those struggling with homelessness in Central Texas – from veterans, to abused women and children, to those who suffer from various addictions and afflictions. They not only provide quality, green, housing to those in need, but they also work with their clients to address the issues that led them to become homeless including: loss of a job, alcohol/drug abuse, mental health issues, and physical abuse. All of their properties include features that help build up a community and provide an outlet for residents to engage and recharge their lives, including community gardens, play scapes, and shared group meeting spaces. It's such a rewarding group to be a part of and to see the changes that they have helped make in others' lives.
---
Jennifer Dawkins
Account Director
Community-supported radio has always been important to our family. With three teenage boys, we spend most of our lives chauffeuring them to far-off sporting events, with NPR playing in the background. The news coverage and other programming regularly sparks great conversations about what's going on in the world, why it's important, and what they think about it. I'm so thankful for these discussions and the quality programming NPR provides, which is why NPR is one of our favorite organizations to support every year.
---
Erin Gleeson
Account Manager
I've long supported the Alzheimer's Association as a volunteer, funds raiser, events participant and former employee. The Alzheimer's Association focuses on supporting people living with Alzheimer's and their caregivers via local support groups, care meetings and Alzheimer's education, and also works diligently on the research and advocacy sides to secure funding and make advancements in treatment/prevention. Alzheimer's is the sixth leading cause of death in the US and will cost the nation $290 billion this year, with those numbers projected to rise. I support the Alzheimer's Association because I'd like these numbers to drop! I've also seen firsthand the impact the association has on those living with Alzheimer's and their families, and the support they provide is unparalleled.
---
Adrianne Gosselin
Account Manager
Without a doubt, Girl Scouts has been a guiding influence on my life since I was 6 years old. It's more than just selling cookies. Girl Scouts is an experience that encourages girls to grow in a safe, all-girl environment, by challenging them to earn badges, go on amazing trips, explore the outdoors and do community service projects. As a teenager, Girl Scouts helped me travel to far away places like Finland, Scotland, England and France. I learned leadership skills that prepared me to be more successful in college and the workforce. As an adult, I enjoy watching younger generations of Girl Scouts have fun in all sorts of STEM activities and entrepreneurial endeavors that are new since I was a girl 20 years ago. If you're looking for something fun to do with your girl and want to help her grow into a strong woman, I highly recommend Girl Scouts! I wouldn't be the same without them.
---
Morgan Norris
Brand and Content Manager
An organization that's impacted our family and community is Arrow, an organization that supports kids and families in Central Texas, particularly through foster care. There are more than 31,000 kids displaced in foster care in Texas and Arrow helps connect kids and families in times of crisis. As a family, we support Arrow throughout the year through actions like providing school supplies for families, covering Christmas gifts for kids, and staying current on background checks and CPR certifications so we can easily babysit for families fostering kids.
---
Sarah Seward
Inbound Marketing Specialist
I have so many things to be grateful for this year, but I am especially thankful for good health. One of my favorite organizations to support is St. Jude's Research Hospital -- a leading children's hospital that treats complex childhood cancer cases at no cost to parents. St. Jude's Research Hospital is a leading research center, and freely shares discoveries with hospitals around the world. Since high school, I have participated and helped put on many different charity events for St. Jude's Research Hospital, including dance-a-thons, bake-offs and 5Ks. If you're looking for a great organization to give back to this holiday season, I would highly recommend St. Jude's Research Hospital.
---
Abby Terry
Marketing and Operations Coordinator
One organization that has become very close to me and my family's hearts is School's Out, Food's In (SOFI). It is an organization that was created by a mother in our school district of Dripping Springs, Tx. SOFI is a summer food assistance program available to all grade levels, for anyone's family who is going through a financial hardship. Many children who are extremely dependent on the free/reduced meals that are served while in school, will not eat consistent meals throughout the entire summer. With the support of our community neighbors, churches, and civic groups - SOFI delivers bags weekly to each of the needed families filled with everything those children need for balanced meals. I've been able to even get my own two small children involved in this with decorating the bags so they can bring a little more cheer to the recipients!