Chances are you are actively nurturing your database through some form of email marketing. Do you know whether or not your enewsletters and emails are performing well, and what to do if they are not? In part three of our email blog series we'll walk through the top 4 email marketing metrics and how to troubleshoot each area when you need to improve performance. If you missed parts one and two of the series, start here first: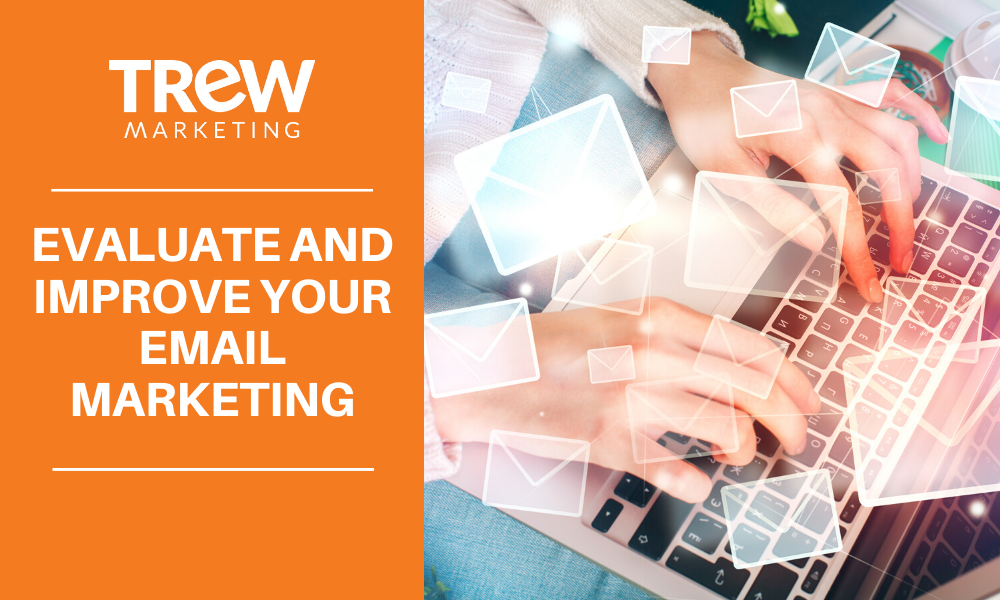 The best measures of your email marketing initiatives are actions taken by the recipient, such as opens, click-throughs, and unsubscribes. Also highly important are measures of your database health, the engine that powers email marketing. In addition to improvement trends over time, it is helpful to measure your performance against B2B industry benchmarks. Let's dive in.
1. Delivery Rate: This is the percentage of recipients whose email addresses are valid and who received your mailing. Your delivery rate should be 95% or higher. The opposing metric to this, the email bounce rate, is the percentage of emails that could not be delivered. The two kinds of email bounces are:
Soft Email Bounce: Email was rejected because of a reason on the recipient's end, such as company security firewalls. This bounce rate should be 1% or lower.
Hard Email Bounce: Email could not be delivered because the recipient's email address was not valid or the recipient's inbox was full (usually the sign of an abandoned email address). A high hard email bounce rate usually means your database is very dated or not permission-based. This can result in your company being blacklisted by your email service provider. Your hard email bounce rate should be under 5%.
Troubleshooting tip! If your delivery rate is low, add a step to your email workflows that puts hard bounces in a separate segment in your database, and delete these on a regular basis.
2. Open Rate: This is the percentage of recipients who opened your email. Strive for a 20% open rate.
Troubleshooting tip! If your open rate is low, examine your subject line. It should be actionable and brief, and it should highlight key content in your e-newsletter. Remember that A/B testing is a great way to analyze different types of subject lines to see which one resonates best with your audience.
3. Click-Throughs: This is the percentage of people who clicked through on a link, and you can calculate it in two ways, each with its own merits:
Click-Through Rate (CTR): The percentage of those emailed who clicked through on a link. This metric paints a picture of the overall performance of the email. Strive for a CTR of 3%.
Click-to-Open Rate (CTOR): The percentage of those who opened the email compared to the percentage of those who clicked through on a link. This metric specifically indicates how well your email content performed. Aim for an 14%.
Troubleshooting Tip! If you have a low CTR or CTOR, your recipients may believe your content lacks relevance or usefulness. To further troubleshoot, make sure that the content mentioned in the subject line is easy to locate and click on as soon as the recipient opens the email. Next, evaluate your design and content length (brevity is key). Poor design and long emails both repel many readers. Consider utilizing a sidebar if your email or e-newsletter is running long or, better yet, cut down to the most important information.
4. Opt-Out (Unsubscribe) Rate: This is the percentage of contacts who took action to unsubscribe from your mailings directly from the email. As you might imagine, a high opt-out rate is a red flag that either your content completely missed the mark or you are spamming a broad list of contacts who don't know you and aren't interested in your content. It could also be that you are sending your content too often and fatiguing your database.
In most cases, your opt-out rate for each email should be <0.1 percent. The exception is for companies that have not engaged in email marketing in a while or are trying to reengage aged contacts. In those cases, you may see an opt-out rate along the lines of 1.5 to 2 percent. If your opt-out rate is above 5 percent, email services (e.g., MailChimp, ConstantContact, HubSpot, etc.) conclude that you are spamming people (rightfully so!). Those services will shut down your mailing, and your company domain could be at risk of being blacklisted from future mailings.
Troubleshooting tip! Examine the origin of the contacts in your database. This often indicates that the company has entered a cold list of contacts who don't know your company and are likely not a good fit (see chapter 9 of Content Marketing, Engineered for more on mailing list development). Suppress these suspect contacts from your regular emails and take separate actions to either entice those contacts to subscribe or remove them from your CRM altogether. Also consider your email frequency. You may be sending too many and repelling the very contacts you worked so hard to capture.
One last tip for improvement: Consider your send frequency. If your email/e-newsletter cadence is infrequent or sporadic, readers are less likely to engage with you. The key is to select a frequency that you can consistently deliver on and set expectations with your readership.
Want to dig into benchmarks further? This chart from Campaign Monitor's Ultimate Email Marketing Benchmarks for 2020 shows a breakdown by industry: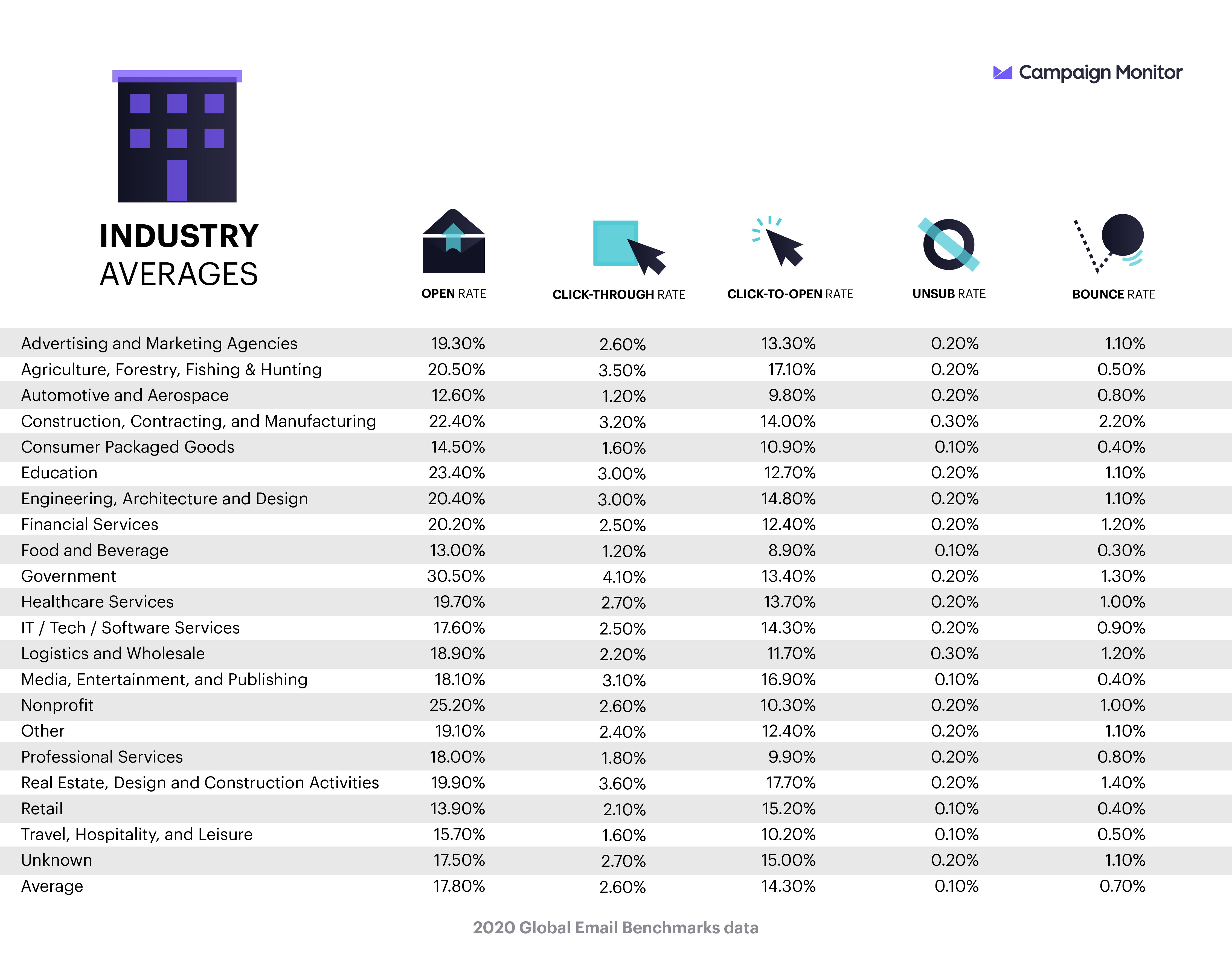 Looking for more ways to improve your email marketing? Pick up a copy of Content Marketing, Engineered or schedule time with a TREW Marketing Strategist.