5 min read
3 Reasons Why A SMB Doesn't Need a Custom Website
As the inbound marketing account manager at TREW Marketing, I work with a lot of engineering companies to strategize, build and grow their new websites. Any time a company comes to TREW for a website redesign, we start with strategy to thoroughly outline who the site is targeted to, the content that will best suit those audiences, and the general hierarchy and design of a site. We also talk through the web platform a site will be built on and whether the site will be templated or custom.
Clients don't always have a content management system preference, but the custom vs. templated question usually elicits a couple common responses. Below, I'll cover the top reasons why clients think they need custom sites- and why they probably don't.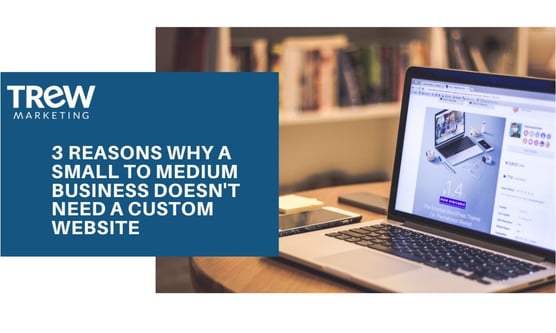 1. Uniq

uenes

s
"We want our site to be unique" "I don't want it to look like XYZ competitor's site" "We want to stand out" "I want something that no one else is doing"
Wanting a unique site is the most common reason I hear as to why companies are considering custom vs template sites. While there's nothing wrong with wanting to be different, especially when it comes to differentiating oneself from the competition, there are plenty of ways to look different within the structure of a template.
Consider the two sites below. They use the same base template but look very different thanks to different brand colors, fonts, selected template pages and content needs.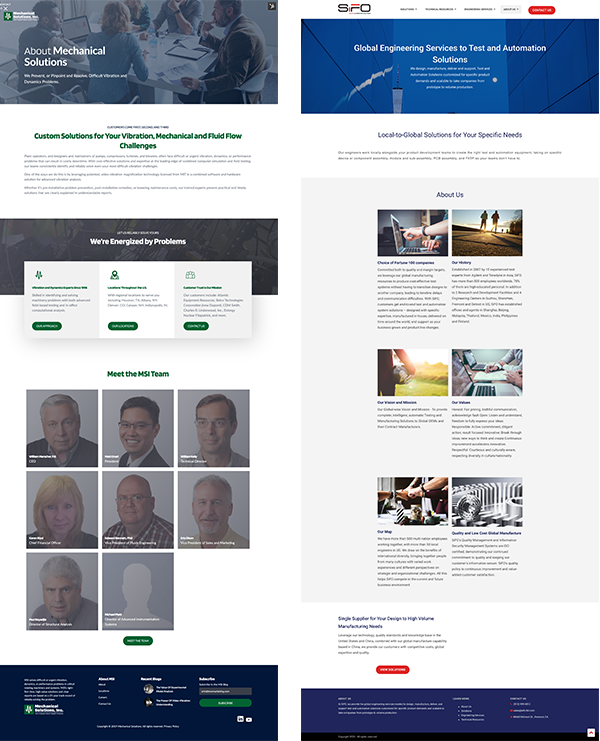 About pages for Mechanical Solutions, Inc. and SiFO
There are also A LOT of different template packages out there, on multiple CMS, with very different designs and functionalities. It's easy to pick a template that no one in your industry is using, even if you use the same CMS as them and have similar website needs.
For those companies wanting to do something really out of the box, I caution you to think about user experience. There's a reason why navigation bars are on the top of the page and why links tend to change color or have an animation when hovered over. People are trained on how to interact with and navigate through a website. If your site is too different or is hard to figure out, visitors are more likely to leave than find the information they want.
2. Sophistication and Customization
There certainly are website template packages that are light on page types, are missing advanced functionality or are not easily customizable. There are also plenty of options that have 70+ page options, include built-in advanced/specific functionality and are easily customizable.
This is where having an experienced web partner can make a big difference. Your partner should review template packages for the right fit for you, looking for the identified design elements and functionality your new site needs. The options they present to you should meet all your design and functionality needs (or the partner should call out what's missing and have a solution).
The template packs we're seeing now on HubSpot and Wordpress (the two CMS we work in most) tend to feature multiple versions of each page and have modules that can easily be added to or removed from pages to customize them. It's important to consider a template as the starting point- it's unlikely you'll use every page as-is. You'll probably remove, duplicate and bring in new sections to meet each page's specific content needs.
Here's an example of that. This is the same base page template, with very different sections based on what the page content dictated. This template included all this functionality- we just refined templates to exactly match the client's needs.
Two Testek Solutions overview pages using the same base template
The added benefit of a template is that as your company and your website grow, you'll likely have additional page templates and modules you can utilize. That second homepage template you didn't use might make a great pillar page template next year, and that auto-playing video module can be easily embedded across the site to showcase your next corporate video.
3. Specific or Advanced Functionality and Technical Requirements
There's some overlap between this response and the above, but let's look specifically at the need for specific/ advanced functionality such as contextual content, multiple languages, advanced item filtering, integration with another tool, or e-commerce.
Some of these capabilities are covered by the CMS or marketing tool as opposed to the website design. The ability to add contextual page content that changes when a visitor uses a mobile device over a computer, or that pulls a contact's info onto the page when he/she visits from an email, tends to be included in marketing and CMS tools. HubSpot includes contextual content capabilities in the pro version of their marketing tool as well as in their standalone CMS. Multi-language capabilities, e-commerce, tool integration and on-page SEO management are also typically covered in a CMS/marketing tool/plug-in.
Other specific functionalities may not be included in your template and may need custom development. We tend to build a lot of custom filtered resource galleries for companies that need three levels of filtering (industry, service and application, for example) for case studies or technical documents. This helps their visitors drill down to only the case studies or documents that are hyper-relevant to them.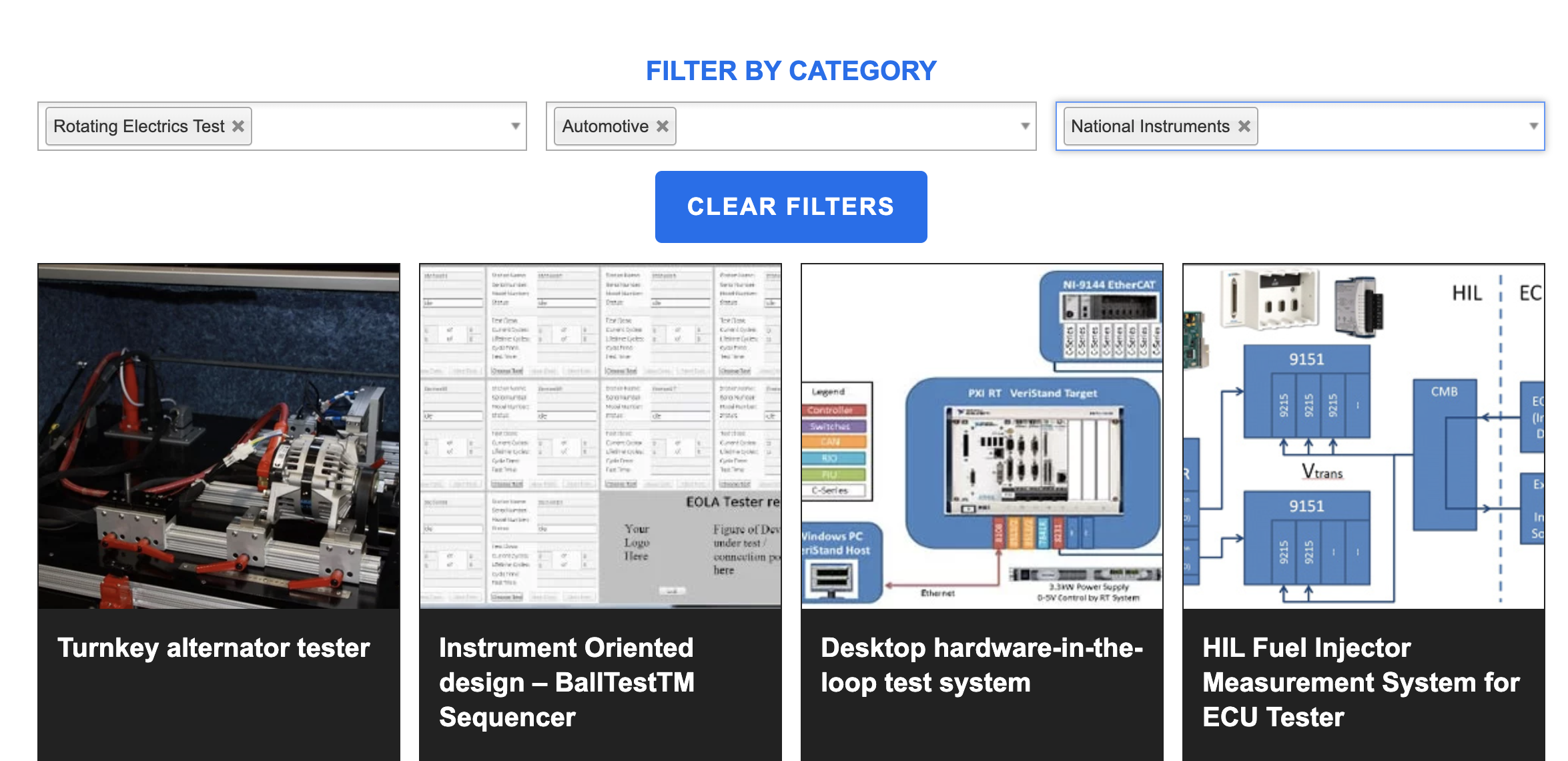 Ball System's project gallery with three level of filtering
As templates have grown and evolved, it's become easier to build in custom functionality or build on existing functionality to make it work for you. Needing one custom piece is not a compelling reason to build a full custom site, but rather to build off a template and add functionality as needed (for a much lower cost and level of effort).
So, you don't need custom- but what's the harm?
As you may have guessed from my comment above, a custom site is often considerably more expensive, with a longer execution timeline and heavier development work. A custom site may not be as flexible either moving forward. Unlike a template pack, the developer will not build out extra page variations in case you need them in the future (and rightly so, as this would inflate your cost). The variations included in your template package make it easy for you to brand new page templates, build out pages and roll out a whole new site section quickly, as opposed to needing a new development project.
The Exceptions
As with anything, there are plenty of exceptions to this post. A custom site might be the right choice for an enterprise-size company, with a web development team to support or even spearhead a redesign. An e-commerce site that needs advanced integration with an inventory management system or database might need a custom build as well, to ensure systems talk to each other efficiently.
As a general rule of thumb, a small-to-midsize B2B company does not typically need a custom site to meet its needs. A template package will offer more than enough functionality and page options, at a substantial cost savings, to serve the company well.
---
Interested in learning more about templated vs custom sites? Listen to our podcast episode on Content Marketing, Engineered.