Many technical B2B business leaders believe social media is not relevant in the technical and engineering space. Other engineering and technical companies just don't understand where to start or how to measure success in social media marketing.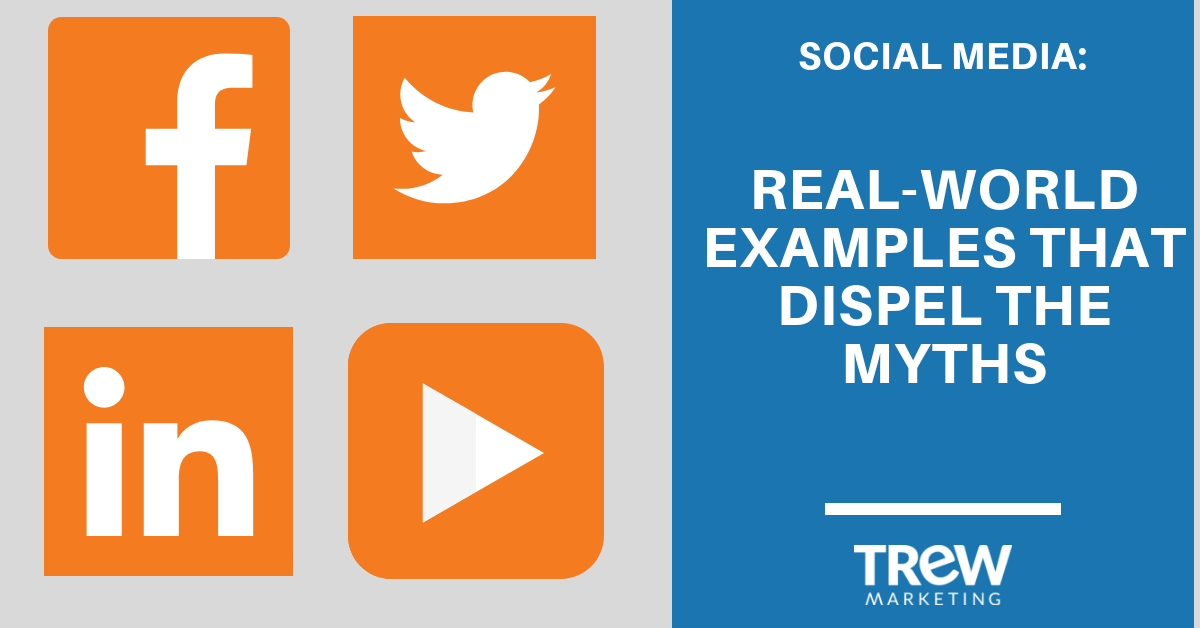 Today, social media has become part of our day to day lives. Nearly 1/3 of the world uses social media regularly. 74% of users say they use Facebook for professional reasons. 40% of LinkedIn users visit the professional social media network daily. If your company isn't regularly posting on social media, you are missing out on reaching more users who need your services and products.
So what are the key benefits of social media? Here are our top 5:
Gain deeper insights into your target audience and industry trends more affordably
Push relevant content around the clock through third-party endorsements and ease of sharing
Reach and engage new audiences that your traditional communication channels may not be touching
Increase credibility by being a valued member of and contributor to your community
Improve your search ranking through deeper links with social integration
Still not convinced? We hear a lot of skepticism from engineers, technologists and business owners about social media, but often times their perceptions are not true. Below we've listed the three most common misconceptions, and use real cases and data to illustrate the real impact and opportunities social media offers.
Myth #1: "My customers are highly technical scientists and engineers. They don't post on Facebook or have time to tweet."
Reality: Don't make the assumption that because you aren't on social media, other engineers or prospects aren't either. You might not be looking in the right channels for your highly technical interests. LinkedIn is a treasure trove of key decision makers across various industries. When it comes to delivering content and securing audiences, LinkedIn is the most effective social media platform.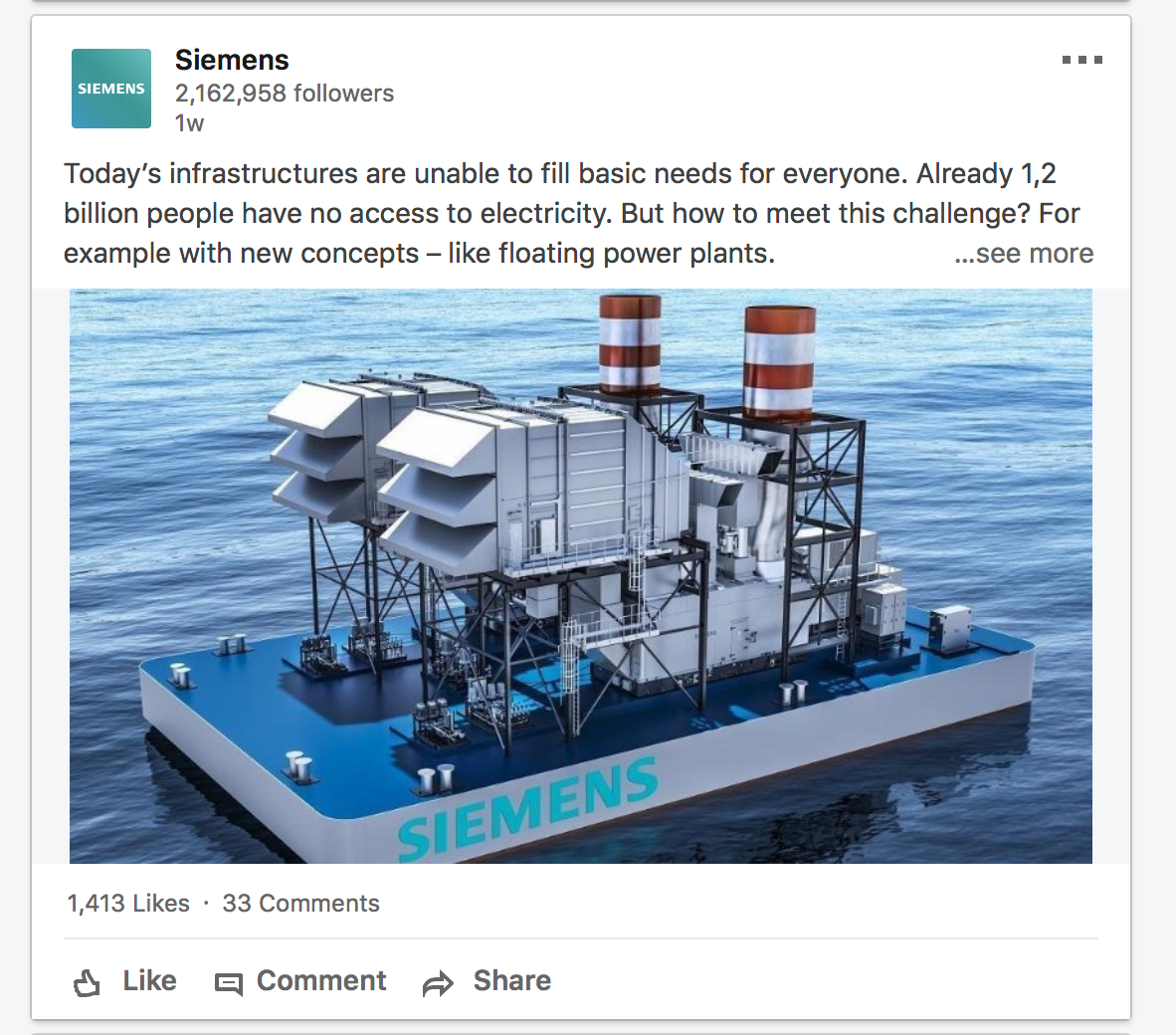 Siemens uses social media to introduce new solutions to real-world problems.
Above is a screen shot from Siemens LinkedIn page on solving the problem of infrastructure needs by building floating power plants. This post generated 1,413 likes and 33 users commented on it. For more information about LinkedIn's demographics and useful business practices, see blog post, "Social Ad Showdown: 5 Ways LinkedIn Takes Care of Business."
Another example is Twitter. This can be an overwhelming channel if you don't know what you're looking for. Although Twitter has fewer members compared to other social sites (Twitter has 369 million monthly active users as of 2018), the channel's users are very active spreading messages to new audiences you wouldn't normally reach.
For example, let's look at events and trade shows. With tighter travel budgets, people are not attending like they used to, but through online forums, those who stay home can still follow the events of the conference and discuss. Check out the discussion below on Twitter during National Instruments's 2018 NI Week. National Instruments used Twitter to create a community where people could share lessons learned and continue the conversation after the show ended.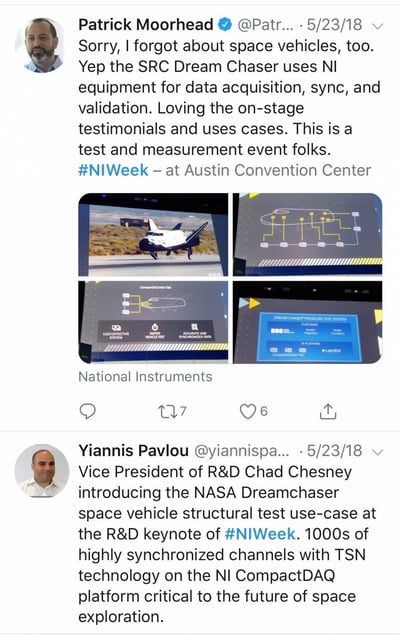 Attendees of NI Week used #NIWeek to share their NI Week experience. This allowed people who couldn't attend the show to still learn and be apart of the NI Week experience.
Myth #2: "Only outrageous or edgy companies get social media attention"
Reality: While much online buzz is focused on the entertainment and fashion industries, social media also influences less consumer-focused industries such as the agricultural, electronics, and medical fields. In fact, the most unlikely companies can generate tremendous online buzz. This doesn't magically happen for B2B companies; typically it's a result of careful marketing tactics, integrating online advertising, PR, shareable content, and offline activities to get these results.
For example, Vertech -- a control system integrator and TREW client -- embraced inbound marketing and began writing white papers and blog posts. To promote their content, Vertech posts to LinkedIn, Facebook, Twitter, Youtube and Google+ regularly. Since 2017, Vertech's social media platforms have generated over 2,300 web sessions alone. Social media allows technical companies to share content and industry news to technical audiences. Posting to social media also impacts your search engine rankings because it builds up external links to your web content.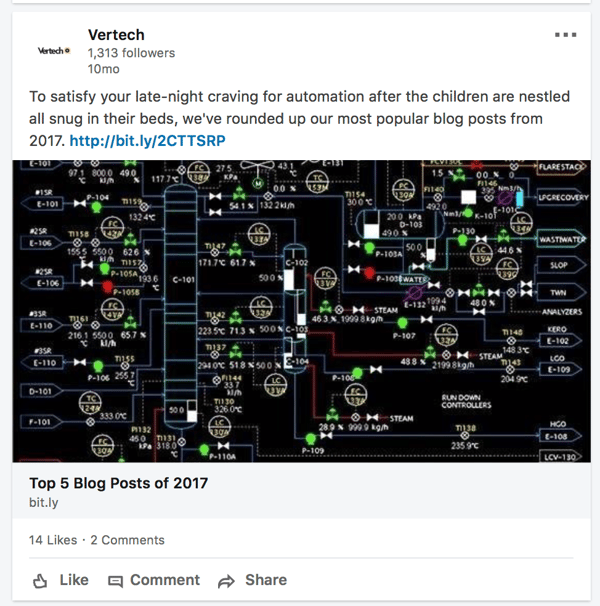 Here's an example of Vertech's most popular social media post that drew over 50 sessions to their website.
Myth #3: "I'm a small business and can't afford the resources necessary to manage social media"
Reality: Social media is not free. Although it doesn't cost you anything to create a Facebook or LinkedIn site for your company, it does take time to learn the landscape, keep up with the latest tools and trends, and maintain a consistent presence. And as we have said before and outlined in our guidebook, Smart Marketing for Engineers, we strongly encourage you to invest in social media only after you have developed a marketing plan, website, strong content, and an email marketing program.
When you are ready to begin a social media program, keep in mind some powerful statistics that may alter your future marketing allocations:
83% of all marketers actively pursue social media marketing initiatives. (Aberdeen, 2016)
Written articles, videos, and images are the three most engaging types of content on social media. (Clutch, 2017)
Nearly one-third of the world uses social networks regularly. (eMarketer, 2016)
User-generated content on social networks has a 4.5% higher conversion rate. (Sprout Social, 2016)
As you can see, there are real benefits to social media, even for small businesses targeting highly technical markets.
Are you ready to start using social media to promote your products and services? We suggest building your marketing foundation before jumping into social media. Download our free ebook, "Smart Marketing for Engineers: Build Your Foundation", for steps and tips on developing a marketing strategy catered to technical audiences.
This blog post has been updated from its original publication on October 27, 2011.