You may have great content on your website in PDF files, but are they getting found by searchers? Search engines, like Google, can easily locate and read PDF files on your website, but these documents often lack basic information that help search engines know what the content is about, which ultimately effects the page rank for some of your most valuable content. This article will help you understand the basics of SEO for PDF files in popular programs like Word, Acrobat and InDesign, providing you with the knowledge to optimize your PDFs for search.
It should first be noted that HTML pages vs. PDFs, are generally better as landing pages for search engines because site visitors have access to the navigation and can easily re-engage with the website. Also, it is easier to include calls-to-action on an HTML page. If you want to drive traffic to a PDF, consider creating a search optimized landing page introducing the PDF – you can also direct relevant traffic to this landing page through an AdWords campaign. If you only make your PDF accessible to those who fill out an online form, there is no need to optimize it for search.
The Basics of SEO for PDF files
The top priority and most important step in optimizing your PDF for search is including the Title and Subject of the PDF in the file properties - the Title is read like the website page title tag and the Subject is read like the page description meta tag. While Word 2010 includes this information under File > Info (click "Show All Properties"), other versions of programs will include this under File > Properties or in an area called Description.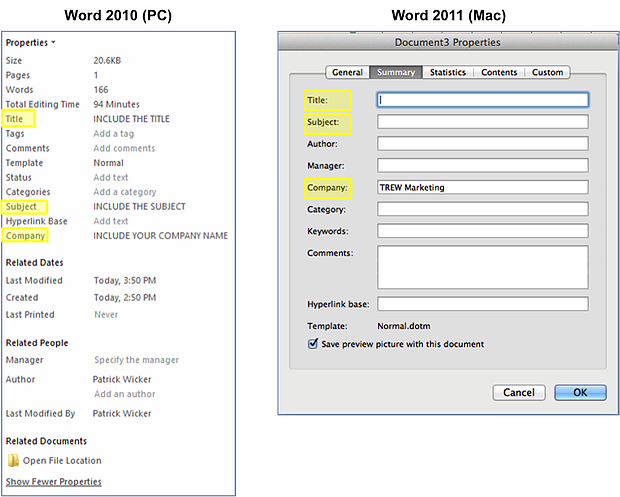 Other important steps:
Make sure the text in the document is readable by a search engine and not in an image format
Don't just bold your title and subheads – use styles such as Title, Heading 1, Heading 2 etc. to show search engines how the document is structured
Include text from the title in the page URL, separated by dashes
Include text from the title in the file name, separated by dashes or underscore (SEO_For_PDF_Files.pdf)
Use keyword-based links in your website to link directly to the PDF
Including Keywords
While brainstorming the title of your PDF, or if it is possible to change the title of a published PDF, consider doing keyword research to determine what targeted keyword you can use for optimization. The Title of this blog post was chosen to attract search for "search engine optimization PDF" because Google is reporting 1000 global searches per month for this keyword. Make sure the keyword is included in the Title, Subject, URL and file name, and try to include the keywords closer to the beginning of the text.