Looking for additional insight? Check out our checklist: A 15-Point Checklist to Evaluate Your B2B Technical Website
Webcasts are an effective, low-cost marketing tool to deliver content to your prospects and customers. In a recent workshop, sponsored by the Austin Entrepreneur Network, I presented an overview and best practices for creating webcasts. (The full presentation is available on SlideShare). Below is a how-to guide to help you create webcasts based upon the presentation.
Where do I start?
There are five steps to the webcast creation process. I'll walk you through each step of the process, and point you to additional resources to learn more.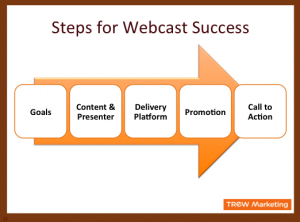 Goals
As with any new marketing project, it is important to identify why you are engaging in this activity and how to measure the outcome. Sample goals for webcasts include capturing leads and moving prospects closer to purchase. Sample metrics may include web visits, webcast registrants, webcast attendees, percentage close rate to next activity, and cost per lead.
Content and Presenter
Creating a compelling title and meaty content is paramount to the success of your webcast. Think from the prospect's point of view: what problem can you help them solve? What innovative new approach can you educate them about?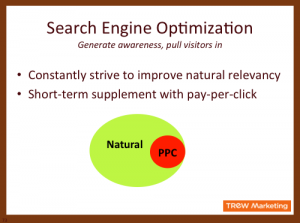 As you begin to assemble your powerpoint slides and dynamic elements, such as videos, demos, etc. for the webcast, follow presentation best practices such as limiting the amount of text per slide. See my checklist, Top 12 Webcast Presentation Tips for more details.
Select a presenter who performs well in this environment, and set them up for success through preparation and run-throughs. In the Top 12 list, you'll see advice for this presenter, such as energy, variation in tone, and first-person language.
Delivery Platform
There are many technology platforms available for webcasts. If you are a small business and/or not sure you are ready to make the webcast technology investment, considering starting off with a 3rd party host, such as an industry publication with a robust online presence (example: TechOnline) or an industry association with webcast opportunities.
If you are seeking a technology solution, begin with your list of requirements and then match possible vendors to these requirements. While there are clear industry leaders for webcasts (Adobe Connect and Cisco WebEx, among a few others), there are also smaller vendors who have robust features and a low monthly price tag. Gartner recently published a study of technology providers called The Magic Quadrant for Web Conferencing that may be helpful in your evaluation.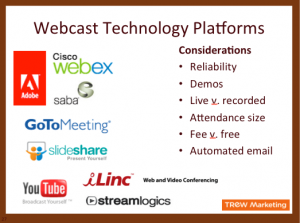 Promotion
There are many ways you can promote your webcast. First you need to determine whether or not the webcast will be live, as this time constraint adds an important dimension to your marketing efforts. Another question to ask is whether this webcast is a call-to-action from another marketing activity, such as a trade show. The slide below provides ideas of what activities you might take advantage of when promoting your webcast.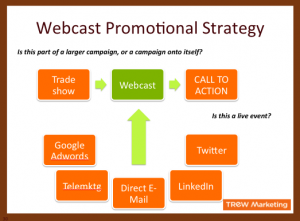 It is key to communicate to your webcast attendees not only to invite them, but to provide important logistics information and reminders. Once the webcast has taken place, you should follow up immediately with two key items: a short survey (so that you can determine whether you met their expectations) and a....
Call to Action
Once your attendee has participated in the webcast, what would you like them to do next? How will you move them closer to purchasing your product or service? Some sample calls to action are included below: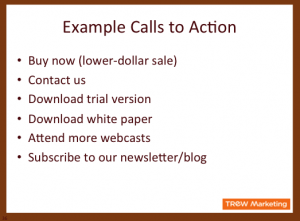 By following these steps and utilizing marketing best practices, you can create webcasts that are extremely effective and low-cost.
Need help kicking off a webcast program? Contact TREW Marketing today.
Looking for additional insight? Check out our checklist: A 15-Point Checklist to Evaluate Your B2B Technical Website