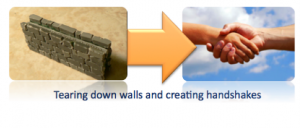 No matter the business size – from start-ups to large multinational corporations – Marketing and Sales are more often than not silo-d from each other. If you have been in marketing or in sales – as many of us at TREW have been – you have felt that separation. Marketers get frustrated when Sales doesn't follow up on "quality" leads and instead they are left untouched in their queues. And yet, Salespeople look through the leads list and see nothing of interest that fit their criteria, such as targeted account, decision maker titles, project owner titles, size, location and other factors. So they don't think Marketing is serving up good quality leads. And the cycle continues.
The Savvy B2B Buyer Expects Aligned Communications from Us
That is how it has been, but times are changing, my friends. The average B2B customer is expecting more from their suppliers and partners. These savvy B2B buyers complete nearly 60% of a typical purchasing decision before even having a conversation with a company.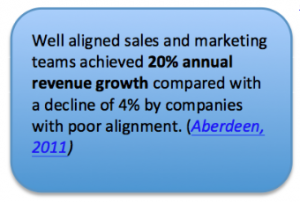 That means researching solutions, ranking options, setting requirements, benchmarking pricing, and more before ever having a conversation with the company. (Corporate Executive Board, 2012) When they do finally engage, they demand us to remember who they are and what they are interested in…no matter if you are in Marketing sending out a webinar invite or in Sales calling to follow up.
Knowing that, the wall between Marketing and Sales must be torn down, and the two teams need to act as one to influence, educate and support both prospects and customers. This smart alignment is good for business. Companies with good alignment between sales and marketing teams achieved 20% annual revenue growth compared with a decline of 4% by companies with poor alignment. (Aberdeen, 2011)
So where to start? Here at TREW, we recommend 4 steps for bringing your Marketing and Sales teams together to create effective handshakes that will drive your business forward.
1. Architect and implement a lead funnel that drives the right organizational behavior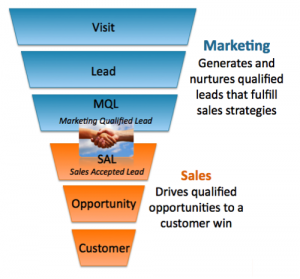 A good place to begin is for both teams to define the stages in developing a successful customer relationship. What does your usual pipeline look like and how do you segment that into phases?
Now add some scoring methods to your funnel on how contacts pass from one stage to the next. Engagement, including how recent and frequent, are indicators of interest. An example is a contact who is on your website every day looking for something specific and constantly attending key events. The next scoring lens is by Sales criteria. Take the factors that Sales uses to cherry pick lists and make them gateways for qualification, such as that key application or market you want to grow in. Maybe this should receive more weight to make those leads rise to the top.
Lastly, think about how you process incoming and outgoing leads with partners or distributors. Do they follow the same rules? Are there different triggers?
By setting up rules and stages around a lead funnel, Marketing and Sales have a game plan for what they are striving for.
2. Establish team roles and a communication plan for an ongoing effective process
Now that everyone is enthusiastic about the goals and process, who does what? What does Marketing drive and what does Sales own? Like creating a Service Level Agreement (SLA) for your customers, think about how internal teams can be accountable to each other. Define those roles and responsibilities on paper and have the key individuals agree to it.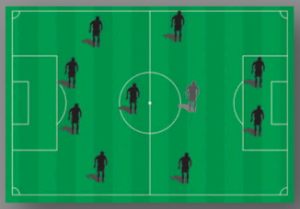 After knowing your positions on the team, next is creating a communication process and timeline for a closed feedback loop on leads, metrics and feedback. Set up weekly meetings where the two teams come together to share data and stories. Set up a wiki page or a Chatter group to document information in real-time. Marketing needs to ask why certain leads are deemed "bad" to be able to adjust scoring methods. Also, Sales needs to share what is resonating and what trends they are seeing so Marketing can modify or create new campaigns. That constant communication will drive quality leads, happier customers, and feeling valued and impactful as a team member.
3. Capture data and share reporting insights to steer the team toward achieving defined goals
What are the key indicators that prove you are making progress on overall business goals and also departmental objectives? Also, what is the health of your funnel? Are desired contacts coming in and taking the next steps or are they not responding? Marketing and Sales together need to understand this data and make it actionable. Define processes for how, when and what to review and communicate. Marketing and Sales then need to manage and share metrics and actions with the executive team and as well as across the organization to other stakeholders.
4. Connect key data and analytics into AUTOMATION tools to effectively understand and act on information
Many of us are still crunching numbers on spreadsheets that we collect from a handful of internal and external systems, from your CRM to Google analytics. Spreadsheets still have their place but today's Marketing and Sales automation platforms provide real-time dashboards and automated alerts that simplify Marketing's and Sales' lives.
For example, Marketing can run a campaign in HubSpot and see high-level metrics like open rates and overall engagement scores. You can then integrate that campaign's data points into your CRM, like Salesforce or Sugar, through dashboards, account records, and contact records. So when a Sales manager reviews CRM records, they can immediately see what a key contact has been interested in or that a decision maker at a strategic account finally generated a lead. Also, thanks to scoring methods and SLAs, team members can be alerted by email about priority actions assigned to them.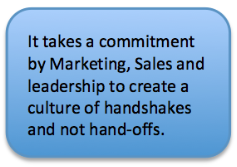 Handshaking Every Day
It takes a commitment by Marketing, Sales and leadership to create a culture of handshakes and not hand-offs. Internally, you'll reap the benefits of more effective campaigns and lead nurturing, reaching Sales goals, and improved team morale. But more importantly, your customers and prospects will experience unified and customized communications from anyone they interact with, impressing on them that you are a well-aligned company they can trust to do business with.
How can these handshakes work for you? Contact us to discuss how TREW can help you with the Handshake Model to bring your sales and marketing team together.
Related blog posts: