3 min read
B2B Inbound Marketing Checklist: 11-Steps to Get Started Today
One of the most frequent questions we receive at TREW is, "What steps do I need to take to implement an inbound marketing approach geared towards a technical audience?"
If you are also asking yourself this question, read our B2B inbound marketing checklist below to evaluate where you are on your journey to inbound marketing and what steps you can take to ensure your success.

Create a differentiated position and message statement to set you apart from your competitors.

Develop a marketing plan from goals to outcomes that includes trackable objectives by dates and owners.

Create at least three target buyer personas.

Create topic clusters to be found.

Design an intuitive website that is responsive to mobile devices.

Develop your content plan and map it along the buying funnel.

Implement marketing automation and ensure it integrates with your CRM so you can track and measure your web traffic to conversion rate and ensure an easy handshake between your marketing and sales teams.

Create high-quality technical content including white papers, case studies, webinars, infographics, and videos at a consistent cadence and targeted to your buyer personas.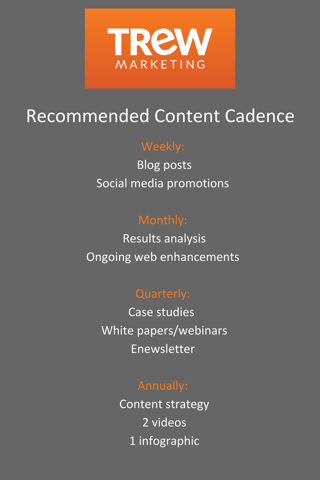 Launch a blog and publish a post at least once a month, working up to twice a week over time. A post is only 400 words and two images, and it will pay out dividends in boosting your SEO and web visits.

Promote your content in a quarterly e-newsletter and through LinkedIn.

Create a marketing scorecard to measure your results and track ROI monthly.
Getting Started Tip
Review your current marketing efforts against this checklist and take a realistic view of your current state. Start at the top of the list and work down from there. Set a timeline for progress and stick to it.
Customer Success
"Over the last several years, we've invested in our marketing foundation and shifted our investment from a mostly outbound approach with a heavy focus on trade shows to an inbound approach focused on web and content marketing. As a result, our company has grown over 50 percent, and, today, the majority of our leads come from online sources."
-- Matt Eurich, President, Wineman Technology