2018 planning season is in full swing. As you work to put those final touches on business plans for your company, consider incorporating these six trends into your sales and marketing playbooks.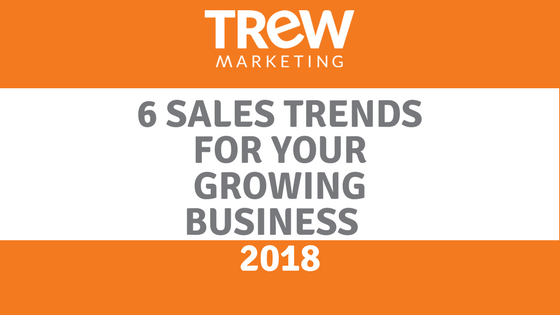 Trends At-A-Glance:
Account-Based Sales AND Marketing Teams
AI Bots for Conversational Sales Qualification
Video as the go-to for virtual sales
Personalized selling is the norm
Sales positioned as Subject Matter Experts (SMEs)
Structuring Sales with Millennials in Mind
1. Account-Based Sales AND Marketing Teams
On average, 5.4 people holding diverse business positions are in involved in a purchasing decision. To make matters more difficult, this number grows with the complexity of the sale. For technical companies, account-based strategies are a must, and for top performing SMBs this account approach is no long done by sales people insulation.
Companies are bringing together sales and marketing leaders to create a cohesive strategy to grow key accounts. With today's modern CRM tools, it is now faster and easier to discover accounts (and influencers), which are most heavily engaged with your company; gain insights to build specific, desirable personas; and utilize behavioral data to engage in a more personalized way. With this information in-hand, your account team can craft and deliver highly tailored content to specific personas along the buyer's journey.
2. AI Bots used for Conversational Sales Qualification (a.k.a. "Online Chat")
Wait! As soon as you saw my mention of online chat, you may have begun to skim over this section. But hear me out. Dialing for dollars is on its deathbed, as an outdated, ineffective model, with more than 40% of sales people citing that prospecting is the hardest part of their job. The rate in which prospects will actually pick up your uninvited phone call or return your voice mail is on a sharp decline. So as you look to 2018, how can you improve the connect success rate of your inside sales/lead prospector/qualifier?
I challenge you to try out a chat bot tailored for B2B companies. Look for a platform that helps your prospects as they navigate through your site by offering richer experience, and one that helps you by qualifying interests and securing that valuable first meeting. There are numerous platforms out there…here is one we like: Drift.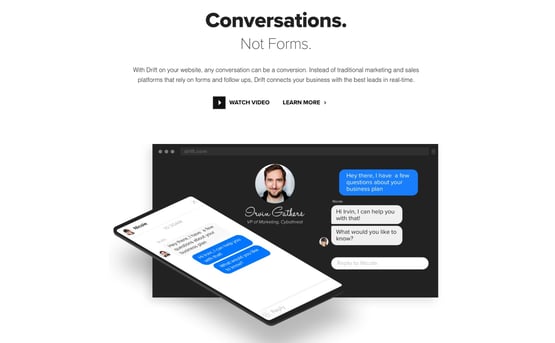 Check out Drift's bot marketing platform to ramp up your sales in 2018.
3. Video as the Go-To for Virtual Sales
Video is an excellent and inexpensive way for sales to personalize their messages in a memorable way, particularly for companies conducting some or all of their sales process by phone or online. Use videos for a pre-meeting backgrounder, quick demo, follow up thank you, and reminder about signing that proposal – just to name a few.
Look for video platforms that launch quickly and are super easy to use – this should not be something that is more time-consuming than typing an email. Some platforms have helpful statistics and integrate into popular CRMs for a holistic view of contact interactions.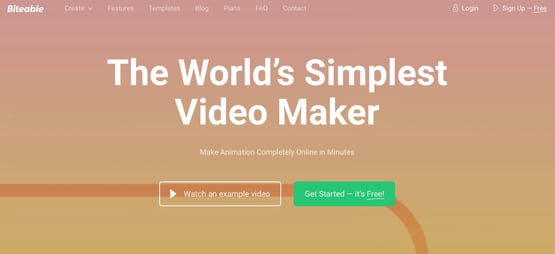 Biteable is a great platform for creating simple sales videos.
4. Personalized Selling is the Norm
Best-in-class salespeople in 2018 will understand their buyer personas and behavior. Having worked with marketing to profile past successes, they know when to wait and recognize the signs that it's time to reach out (timing is everything!). TREW's research on buyer behavior shows that 66% of engineers have 3-7 interactions with a company before wanting to connect with a salesperson, which puts pressure on the sales person to meet that prospect where they are in their journey in order to have relevant, impactful conversations that add value and build trust.
In short, best-in-class sales people will master personalization techniques powered by technology. Adopting this sales methodology will become less daunting in 2018 as the market-leading CRMs such as HubSpot serve up more specific, helpful information in a digestible manner powered by AI.
5. Sales positioned as Subject-Matter Experts (SMEs)
Whether helping an engineer understand which product is the best fit for his/her application or walking a prospect through software licensing options, successful sales people serve as educators and advisers. In 2018, speed up the journey from qualified lead to opportunity by (authentically) positioning your sales person as an SME. You may need to start with training and education, depending upon the knowledge base of your sales force, or consider different qualifications for your next sales hire.
Sales can take on thought-leadership roles through blogging, social sharing, and industry event presentations. They can be positioned differently to prospects, with sans-sales titles. Ultimately, by investing in your sales staff's education and taking on an "always be helping" approach, you will build trust and preference with each prospect interaction.
6. Structuring Sales With Millennials in Mind
Do you realize that the oldest people in the Millennial group are now 35 years old? Chances are that in 2018, your next hire will be a millennial sales person selling to a millennial prospect. A Google study found that over half of B2B buyers were millennials. This presents a major opportunity and disruption in "the way things have always been done", both for retaining talent and effectively reaching your young prospects. To build a successful culture that embraces this unique generation, start by opening your mind to new ideas, more collaborative approaches, inventive tools, and flexible work environments. For example, you may end up blowing up your commission plans in favor of a team approach, or gamifying your sales leader board. And just when you get this figured out, you'll realize that your college intern this year will probably be a Gen Z-er – a total different type of persona!
2018 is almost here…are you ready? Let TREW Marketing help! Reach out to a TREW Specialist for more information about our sales and marketing services.