March 3, 2016

Once you've decided to establish a presence on social media for your company, you'll be responsible for a whole new stream of processes.
It can be altogether time-consuming and confusing. How can you maximize your efforts? How can your social media channels live up to their best potential? What other things can you do to optimize your tweet? You'll have to keep all this in mind while developing your social messaging schedule.
In addition, you can't just be shouting through the megaphone without listening to feedback and measuring results. You want to know what is being said about you, when it is said, and how it is said. Then, you can turn feedback into action.
We get it. It's a lot.
Luckily, there are a multitude of tools that help streamline your social posting process. Here are four of our favorites.
1. BufferApp
This tool saves me an hour of scheduling social messages every week.
The onboarding process is fairly simple. You choose three social accounts to manage. After that, you can either enter your optimal posting times manually, or have Buffer calculate it for you based on previous tweet or status performance. Buffer looks at your past 5,000 interactions across the social platforms you choose, as well as similar profiles in the same time zone to generate the schedule. Here's what mine looks like:
Buffer's frictionless design is what really makes the difference.
Each posted social message is accompanied by the number of favorites, retweets, mentions, clicks, and potential impressions underneath the post itself in the Buffer dashboard. You can see which messages are the most engaging without having to switch to your reporting dashboard before making a decision about what to post. Click on the message and it will be added to your Buffer container within the set optimal times.
When work piles up and deadlines approach, a second saved is a second earned. Buffer streamlines the social media management process for you, and it's free.
2. Hootsuite
While Buffer is extremely convenient for publishing and scheduling posts, it is not a full-service social media management platform like Hootsuite. The purpose of the two are different.
For example, you can't respond to content on Buffer, but you can do that on Hootsuite. Buffer is mainly for scheduling and publishing. Furthermore, if you want overall analytics of your social networks, not just individual posts (Buffer), then Hootsuite is a clear choice.
The best thing about Hootsuite is that you can manage multiple social platforms simultaneously.
Imagine morphing all of these:
Into one:

Not a bad deal at all.
Here's what it'll look like on Hootsuite – you just select the platform you want to manage: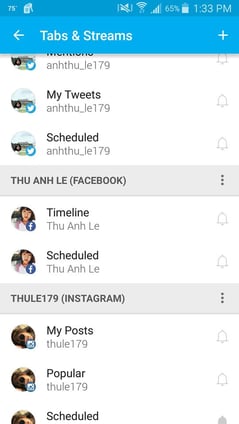 Hootsuite is great for measuring social campaign effectiveness and overall social efforts. You'll get really detailed insights about your performance, including real-time spikes in brand sentiment, when and where your social profiles are growing, and the number of clicks, likes and retweets for your audience segments. It even pinpoints key influencers.
For marketers who can never have enough data, this is definitely worth a try.
3. Social Mention
Want to know what people are saying about your brand on that super cool, trendy social network right now? Try Social Mention, a search engine for social media searching and monitoring.
Social Mention shows where your search term is appearing on social platforms. It aggregates content from 100+ social media platforms (Facebook, Twitter, Google+, YouTube, etc.) You can specify your search to show results for blogs, microblogs, images or videos, and several other content types to get exactly what you need.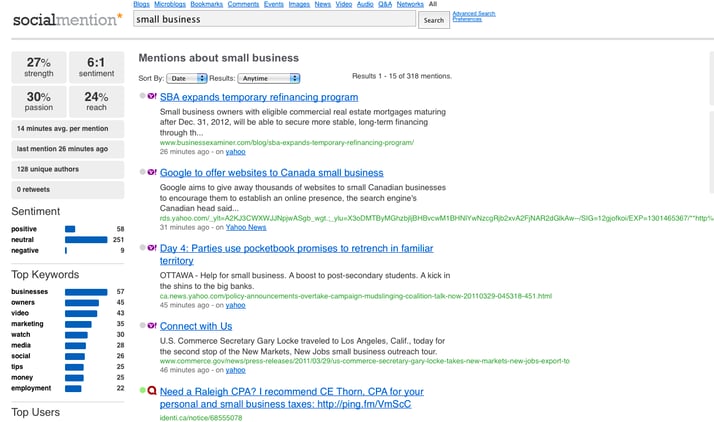 Furthermore, you can also get a basic overall report about the search term. Sentiment, which tells you how people on social media feel about a certain term, is a metric worth noting. Top keywords can be useful if you're mining data for your SEO research. The term's average minutes per mention gives you a general idea of its trendiness and traffic volume. A quick look at the ratios on top lets you know how well the search term is doing in terms of reach and audience conversion potential.
4. HubSpot
13% of our leads here at TREW come from social media. (Unsurprisingly) We use HubSpot as our main social posting and monitoring tool. We love the level of efficiency and insight that HubSpot provides.
Here's a glimpse of what social media monitoring looks like in HubSpot:
HubSpot allows you to monitor multiple accounts per platform at once. You can also set conversation streams to follow. The inbox feature prioritizes messages related to your brand, so you can spend your time interacting with content that is most relevant. Go ahead and create endless conversations with your fans, or your potential customers.
HubSpot's messaging calendar makes it easy to organize content, and you can see a whole month's worth without having to scroll down.
Furthermore, you can attach a chosen campaign to your message so HubSpot can analyze its performance accordingly. Every message with a campaign will be color coded, making it easy to navigate through.
The integrated social media performance report is fairly intuitive. You can choose to compare performance according to timeframes, platforms, channels, campaigns or reach. The graphs are easy to follow and to detect trends in a glance.
t
We shared, now it's your turn. What tools are you using for social media ?
Contact TREW if you'd like help maximizing your social media efforts.