IEEE GlobalSpec, a provider of data-driven industrial marketing solutions designed to help companies promote their products and grow their businesses, recently released its annual Trends in Industrial Marketing survey. The survey found that industrial marketers' most common challenges include:
Having too few marketing resources

Not generating enough high-quality leads for sales

Measuring and improving marketing ROI
These findings come from a survey of hundreds of engineering and marketing professionals with industrial-focused organizations that represent a variety of company sizes , and a wide-range of marketing budgets. Two-thirds of respondents are CEOs or in marketing/other management and the other third are marketing coordinators from industrial organizations including manufacturers, distributors, and service providers.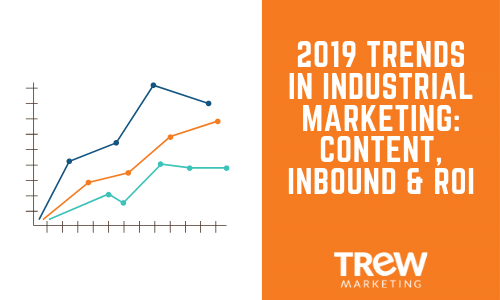 Top 3 Findings & Recommendations
1.

Content marketing's role continues to grow.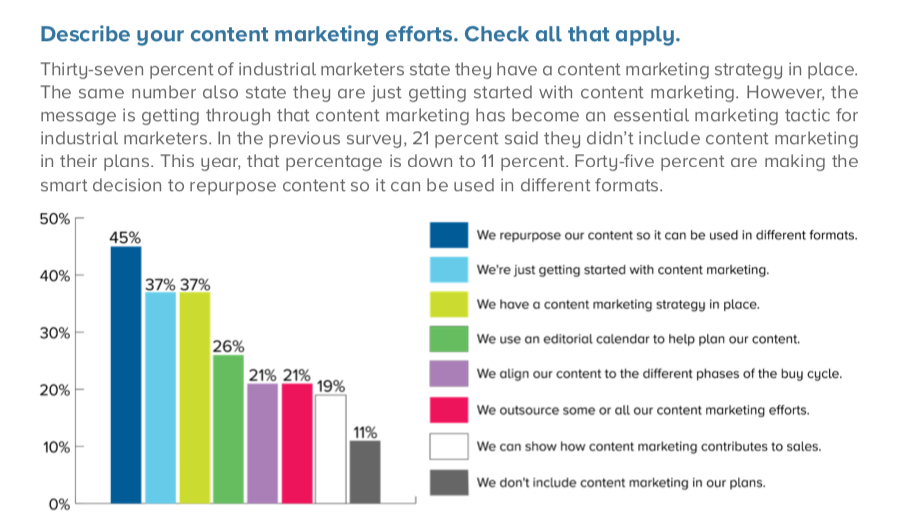 Related to this, marketing resources are in short supply. It was reported as a top-three challenge by 37 percent of marketers, and as the single biggest challenge by 21 percent. Headcounts and budgets are staying steady for the majority of companies, further constraining resources. Only 25 percent of companies are adding marketing people; just 31 percent are spending more on marketing.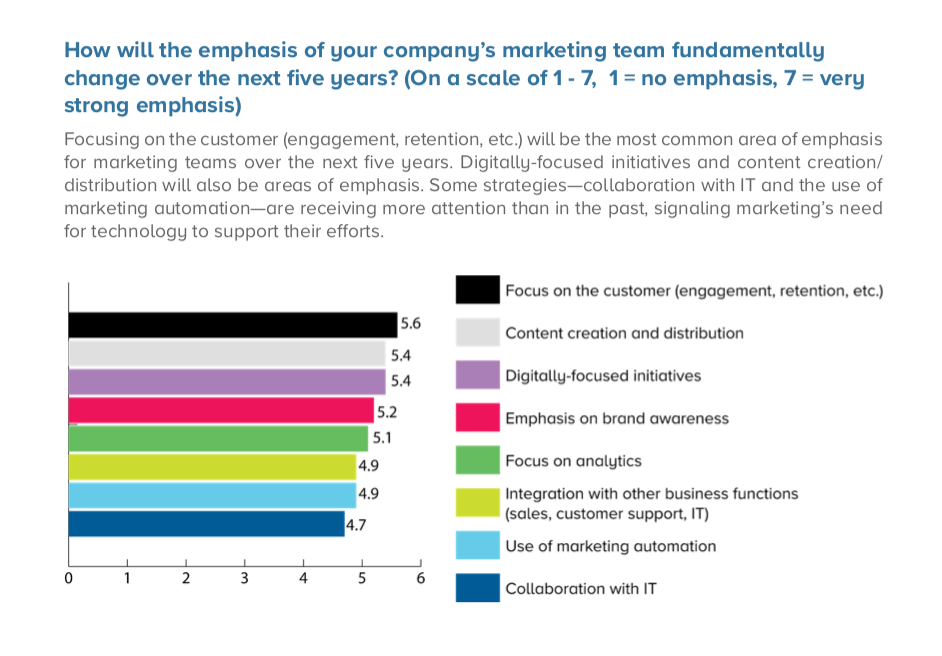 Recommendation:
Ensure you have a content plan in place and marketing resources to help you write and promote technical content.
2. Technical marketers are mixing it up with both inbound and outbound tactics.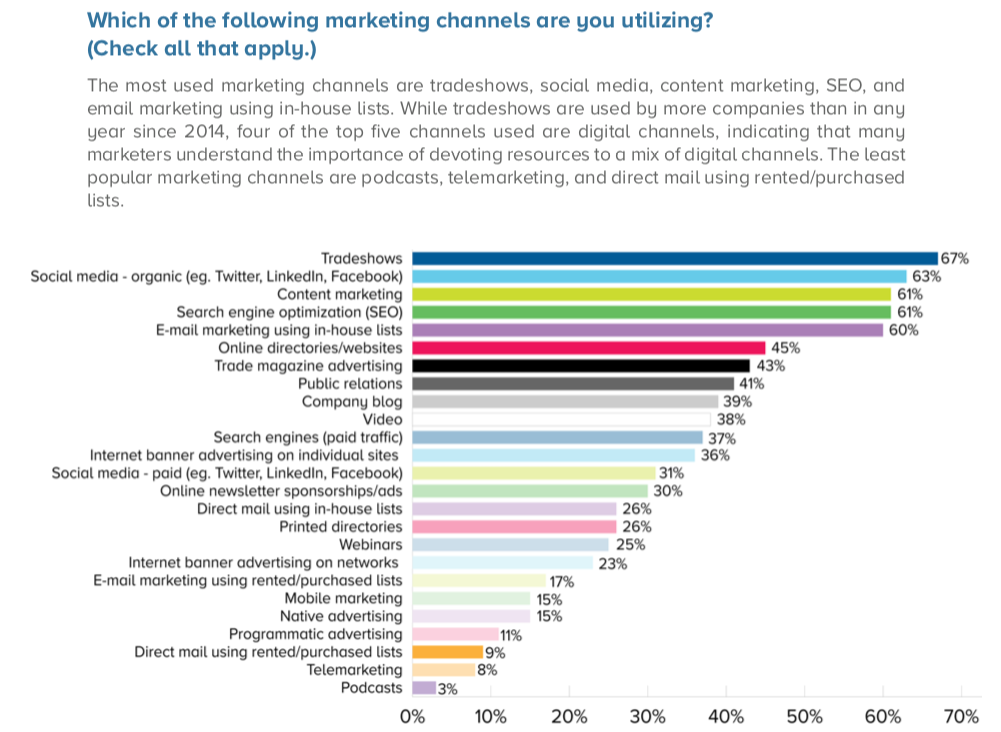 However, inbound tactics are continuing to rise to the top of the mix and the inbound tactics below are being used by more than half of industrial marketers in the upcoming year:
Organic or "free" social media

Content marketing

SEO

Email marketing using house lists
Other popular inbound tactics include company blogs, videos, and webinars. Eighty-one percent of marketers use a hybrid approach of inbound and outbound tactics but the majority believe they could be diversifying more. Spending is increasing on company websites, social media, and content creation/distribution.
Recommendation:
Ensure you have the right mix of inbound and outbound tactics to help you grow leads and extend your brand reach.
3. Marketing in no longer a guessing game.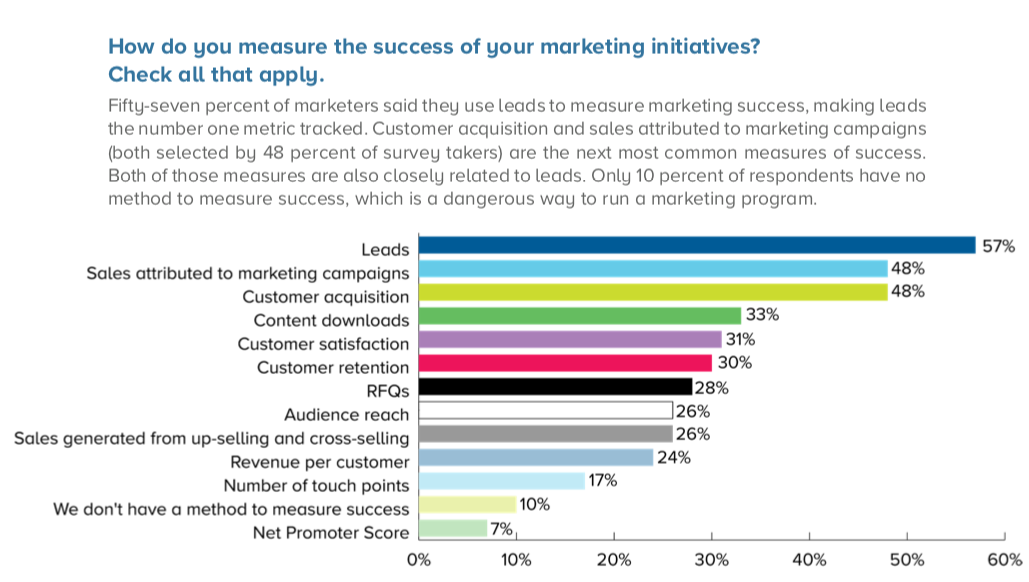 Marketers are under steady pressure to demonstrate ROI for their marketing programs. To meet this challenge, marketers use leads as their number one measure of success. But generating high-quality leads for sales is also one of the top marketing challenges. This may sound like a vicious cycle, and some marketers would agree, but the point is that measurement matters. Other measures of success include customer acquisition and sales attributed to marketing campaigns. Marketing automation software, which can improve tracking and measurement capabilities, is used by only 37 percent of industrial marketers.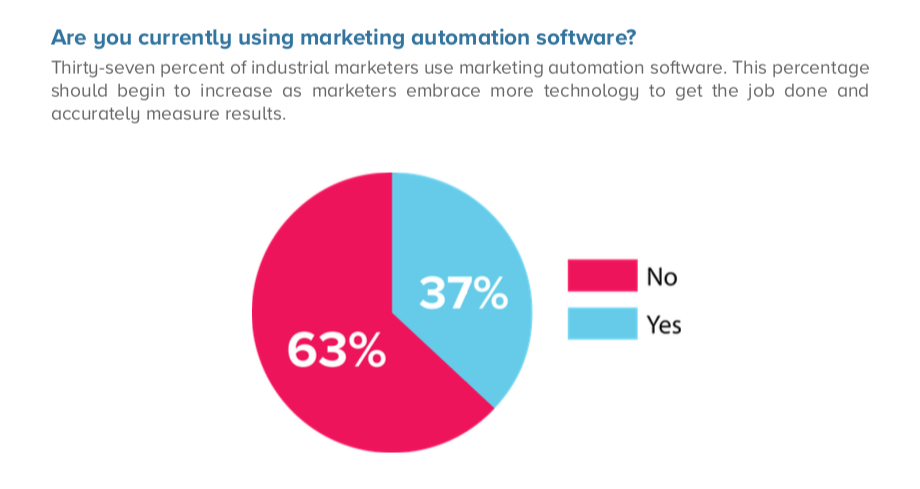 Recommendation:
Consider implementing a marketing automation platform that integrates with both your website content management system (CMS) and your customer relationship management (CRM) software so that your team has the complete picture of what activities are driving the most valuable leads and new business.