Resources to Help You Navigate Through This Global Pandemic
To help you out, we've compiled the following list of tips and tactics we recommend you explore and implement to help you stay connected with your audience, maintain brand trust, and close your lead gap now. This page will be updated with new resources as they are published.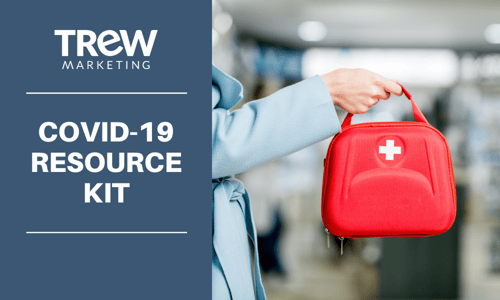 1. Learn How to Pivot Your Current Marketing Plan

Due to the spread of COVID-19, marketing plans and budgets have undoubtedly shifted. Most notably affected are face-to-face trade shows, events, and sales meetings. We've polled our team here at TREW and assembled many considerations and approaches we recommend to help B2B companies figure out the best way to reallocate time and budget in the most effective ways.
2. Consistent Brand Communication During a Crisis

How do you move forward as a brand while acknowledging the gravity of current events? We've pulled together 5 tips for communicating your brand during a crisis without changing who you are and what you do, and without coming off as opportunistic or tone-deaf.
3. Try these 8 tips and tricks to help remote working

Whether on purpose or under duress, many of us find ourselves working from our homes during these unprecedented times. There are many benefits to this work style but there are some challenges as well. Here in this blog are 8 tips from the TREW Crew which will help you and your teammates stay focused, productive, and happy working from home.
4. Be a leader even during these uncertain times

There is a lot of uncertainty going around these days, as the world reacts to the spread of COVID-19, or Coronavirus. Our CEO, Wendy Covey, shares her experience and advice on how business leaders can remain calm, stay informed, and react quickly when policies and plans are needed to protect their employees, customers, and business.
5. Watch this podcast on Crisis Communication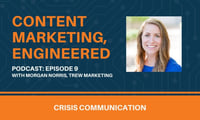 In the face of crises, whether on a global scale like COVID-19 or local scale such as an accident onsite at your facility, communication is paramount. In this podcast, Morgan Norris, our Sr. Brand Strategist, and Wendy Covey, our CEO, dive into what messages need to be crafted both internally and externally, and how they should be delivered. Their advice will ring true for any crisis your company may face.
6. Find out the results from TREW's COVID-19 Survey

TREW was interested in learning more about how existing marketing plans have been impacted by COVID-19, what changes are being made as a result, and what educational topics would be helpful during this unique time. Here are the results after sending out this survey to our database.


7. Shifting Your Sales Approach While Grounded, and How Marketing Can Help

With rapid industry shifts in manufacturing paired with COVID-19 travel restrictions, not to mention internal company struggles, B2B salespeople are faced with many challenging dynamics. Read this post to examine what field salespeople are doing to overcome these challenges, and how can marketing help.
8. Work Habits That Marketers Should Keep In A Post-Covid World
The world is beginning to emerge from its COVID hibernation, but there are some habits that modern marketers would be wise to keep. Read this article to see three habits to maintain in your professional life in a post-COVID world.