To understand what a lead conversion funnel is, you should know what a regular ol' funnel is. According to "The Google"…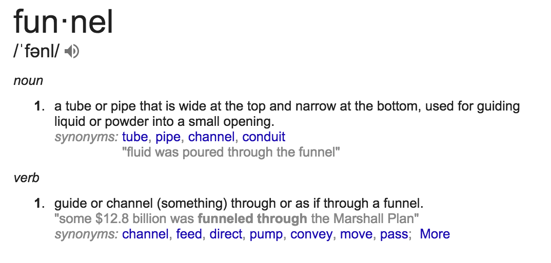 So for our purposes, a Lead Conversion Funnel at the most basic level is a visualization of how prospects or leads interact with your company from an unknown website visitor to a new, first-time customer. The only difference with a Lead Conversion Funnel and your run of the mill kitchen funnel is that 100% of the contents poured in do not come out as customers. This is where the conversion portion comes into play.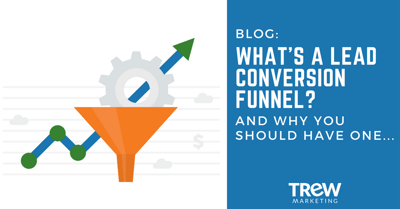 There are imaginary holes in your funnel where leads leak out for various reasons, including disqualification, lack of interest, unsubscribes etc. In order to predict this loss with a reasonable amount of certainty, you use conversion rates to calculate the various lead stages. Each company's conversion rates will vary but typically are fairly consistent from industry to industry.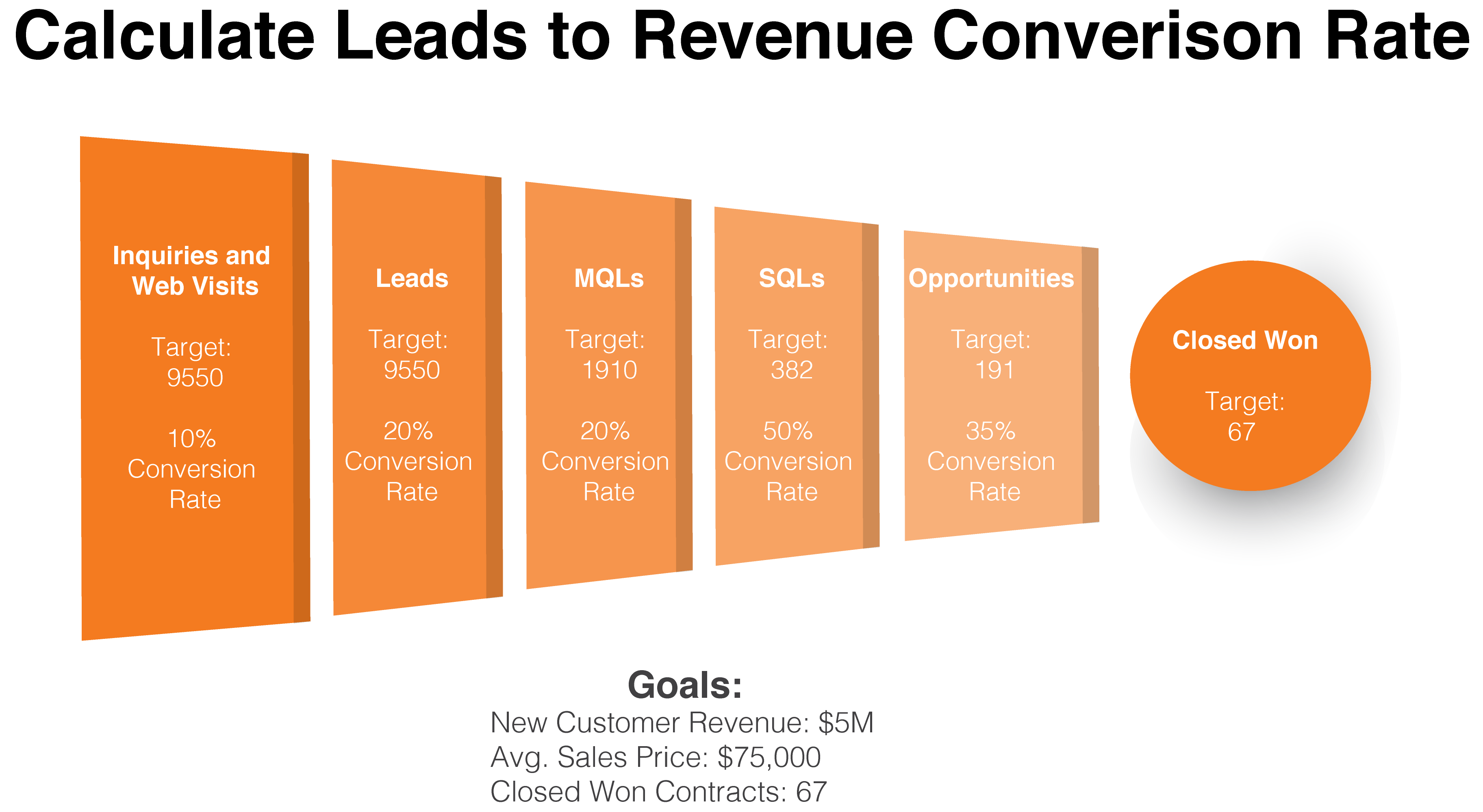 What will a Lead Conversion Funnel actually do for my business?
As part of our annual marketing planning with clients; TREW will start by developing or reviewing the client's previous year's Lead Conversion Funnel. This tells us much about the business priorities and where we should focus our marketing efforts. Most business leaders have an idea of how much revenue they need in any given year and what the mix is of products and/or services that will drive that revenue.
Here are a handful of things that a lead conversion model helps you do:
Reconcile your marketing goals with business goals
By understanding your revenue goals and what products and/or services that revenue is expected to come in through, we are able to use conversion rates to calculate, from the bottom of the funnel up, to see how many website visitors you need. Knowing how many visitors and leads are needed, allows you to develop marketing and sales campaigns that will attract and nurture those contacts through to a closed sale.
Track success to goals
The beauty of a lead conversion funnel, is that it can be used to track quarterly, annually or by campaign and also measure the success within that time frame or specific campaign. We recommend having dashboards set up in your CRM tool to monitor how many people are in each stage of the funnel at any given time. You should also use this on a monthly or quarterly basis to review with your team, document your performance and identify where there might be a leak in your funnel.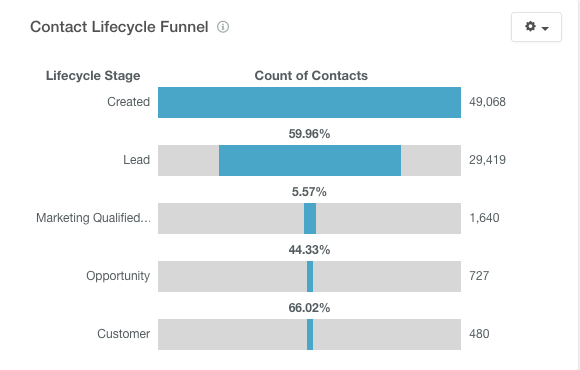 Hold both sales and marketing accountable
The funnel is the answer to the blame game between marketing and sales. It will help align the teams to understand that they are working together for one common goal – revenue. Without each team pulling their weight, you won't be successful. Use the funnel to hold each team accountable for their portion of the funnel. Marketing is responsible for visits, leads and MQLs (aka high-quality leads) and for sales it is SQLs and Opportunities.
Plan Your Marketing Campaigns
Once you know the number of visitors, leads and the breakdown of revenue across products and/or services, then you can develop a systematic approach to how people will flow through and interact with your company. With this information, you can develop content, marketing and sales campaigns that will drive the right traffic to your site and convert them through the lifecycle stages to a customer.
If you only need 3,000 visitors to get to 2 new customers this year, then you might not need to do a very elaborate campaign. But if you need a larger volume of traffic that represents multiple products and/or services, then you will need to run multiple campaigns to meet that demand.
Identify where leads are getting stuck
This is likely one of the most powerful reasons you should have a funnel in place for your business. If you are reviewing the funnel on a regular basis you may start seeing trends such as consistently under performing on converting leads to marketing qualified leads (MQLs). This would mean the traffic you are bringing to the site is not a good fit for your business.
You are able to proactively course-correct to meet your goals for the remaining of the year. This will save you time, money and frustration.
Deliver the Right Content at the Right Time
As a marketing and sales organization, you will work together to guide people down the funnel. This is typically with content that is aligned with their current stage. For example, leads will likely be looking for information on best practices to solve a pain, whereas MQLs & SQLs are likely looking for information about a company such as pricing, product specs or customer case studies. By knowing which stage someone is in, you will be able to send them content that will resonate with where they are in the buyer's journey.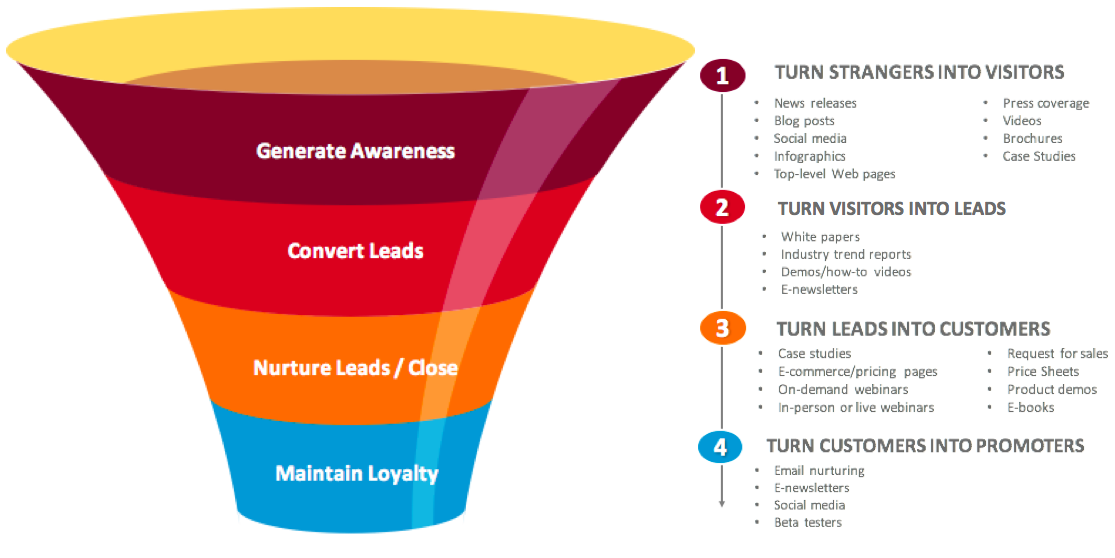 Here's examples of content that moves buyers through your sales funnel to turn them into clients.
Provide a More Accurate Sales Pipeline Forecast
By having a model in which you can see where contacts are in your pipeline, you will be able to forecast more accurately and identify if you are going to be behind in reaching your sales quota or not. This is especially useful so that there are no surprises at the end of the quarter.
Set Goals for the Following Year
When you first create your lead conversion funnel, some of the conversion rates and goals may be educated guesses based of historical data and industry benchmarks. After having your lead conversion funnel in place for a year, you will have a good indicator of actuals, which will help you develop your goals the following year. Knowing where the weak and strong spots are in your funnel allows you to put a SMART KPI in place for growth in the following year. A great example of this would be to grow your website visitors by 15% in 12 months. This goal aligns with marketing, so that team will know they need to increase their inbound marketing efforts such as content generation.
Once you have your lead conversion funnel created, you'll need to manage your pipeline with content that drive leads to your sales team. To improve sales enablement strategy, download our free white paper, How to Engineer a High-Performing Pipeline, to discover how to align your sales and marketing teams to fill and manage your growing pipeline.
This blog post has been updated since it's original post date of February 18, 2016.

Wendy Covey is a CEO, a technical marketing leader, author of Content Marketing, Engineered, one of The Wall Street Journal's 10 Most Innovative Entrepreneurs in America, and she holds a Texas fishing record. She resides in a small Hill Country town southwest of Austin, Texas, where she enjoys outdoor adventures with her family.
TREW Marketing is a strategy-first content marketing agency serving B2B companies that target highly technical buyers. With deep experience in the design, embedded, measurement and automation, and software industries, TREW Marketing provides branding, marketing strategy, content development, and digital marketing services to help customers efficiently and effectively achieve business goals.