Trade shows can be an amazing opportunity to network, educate buyers, and grow your business. However, the art of trade show marketing can be tricky and has become an ever-changing battle for the attention of the client. Through strong competition with surrounding booths for the show visitors' attention, exhibiting companies have driven demand for a greater variety and increase in complexity. Every year new products, processes, and services are created solely around the need for a full and complete stop by a client or customer.
These products, which started from the most humble of beginnings, have grown steadily in complexity, expense, and interactivity as time has gone by. Originally, a free pen or pencil was enough to stop a client and draw his attention toward your literature or representatives. But now, even the most useful of office items is seen as trivial and uninspired.
In an effort to help your trade booth in the upcoming season, here are the top 5 trending B2B trade show items to help boost your booth traffic:
#1 – Eye catching USB 2GB Thumb-Drives

These little pocket promos are great for B2B tradeshows! Not only are they a useful office staple, but they are cheaply available in bulk, are made in any custom shape, size and color, and have two customizable print surfaces. Over all they take the number one spot for ease, affordability, versatility, and an easy creator of top-of-mind awareness.
#2 – Quality Reusable Tote Bags
Tote bags may seem like an old trick, but it is also a sure bet. Especially at large trade shows when there is a lot of literature, samples, and promotionals to hang on to. Totes are an easy way to guarantee a client will have your name on their person throughout the show and back home or around the office.
#3 – Combination Pen/Laser Pointer/Memory card Pens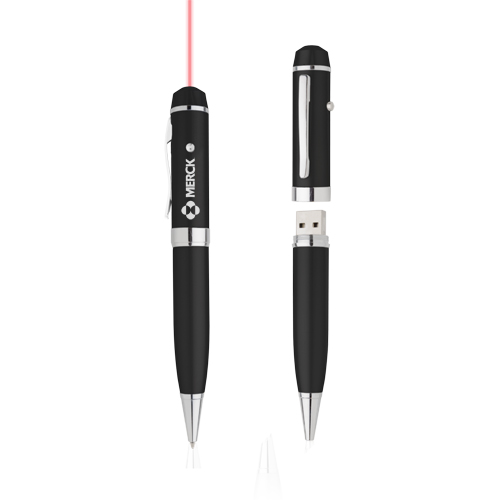 The typical business professional is not interested in a normal pen. Even the nicer of promotional pens is still not something they are willing to carry around during the show. Which means, they are not willing to stop at your booth either. In order to still use the option of a cheaper promo, like a pen, you can enhance your offer with even more flash. The combination of a laser pointer and usb thumb-drive in a sturdy, sleek pen gives you both the convenience and unique qualities needed in a trade show promo to bring your target to a full and complete stop.
#4 – USB Tech Gadgets – Mini USB Presenter remote
This unique office gadget is great to flag down attention from your future clients. Not only is this a cheaper option for a high tech audience, but it is also something that almost every business professional needs. This pocket presenter is slim, compact, and avoids any argument against carrying "too many things around the show."
#5 – Quality Breath Mints with case.
Mints may seem passé and obvious, but it is a staple for any trade show rep or prospective client. These high quality, affordable mint dispensers are perfect for getting people to stop and put YOUR name right in their pocket. Both mint tins and sheet dispensers have large full color print areas and are fully customizable to your specifications. When worst comes to worst, everyone needs a mint.
Although the promo "bait and hook" strategy is wonderfully successful when properly executed, there have been a few other trends in trade show marketing that have been very useful and exciting as well. Most recently, businesses are fixated on the "Win a Free iPad" raffle or drawing. This is, in fact, an easy way to get specific information from a client, such as an email or business card, and draw them into your booth. However, because this has become such a consistently used tactic, it has lost the excitement needed to truly capture the direct attention for your business needs.
In an effort to overcome these obstacles, here are some top trending ideas for interactive activities and re-imagined raffles that will steal the spotlight back for your business.
#1 - Skin It Web Tech Gifts
These gift-able, customizable, personal tech device covers are a fantastic give away for the tech-savvy consumer who wants a cool promo without any of the fuss. Skin It provides you with preloaded gift cards redeemable through a link that takes your client back to your company's website!
#2 – Numbered Bag Raffles
By creating competition and camaraderie between your potential clients, you can create a lot of chatter and bring attention to your booth. One idea has been to give out totes, numbered by a tag, to clients. Each bag and number has an identical double, if a client finds the other client with the twin matching bag, and return to the booth, they will receive the prize. With desirable prizes this method has worked very well.
#3 – Rentable Engravary Machines
This is an easy and unique way to bring in booth traffic! There are numerous companies that rent out engraving machines at daily rates. This supplies both a unique draw and a custom product that your client will surely keep for a long period of time!
#4 – Rentable Token Powered "Raffle Game" Machines
Similar to the engraving machine, there are also plink-o machines that are available for rent by the day. These are fun, loud, and a much needed change from the monotony of usual show tactics. By giving out tokens for providing lead information, or participating in a demonstration, you can get your clients excited, interested, and involved!
In closing, as you move closer to your trade show date and are making the crucial decision of which product to invest in for your individual business, REMEMBER, just any product is not guaranteed to yield better results unless you can devise a way to loop these methods into your business or sales model. Your products and gifts will be most effective when the product relates to or directly promotes/reminds your buyer of your original business or product.
Need help planning your upcoming trade shows? Contact TREW Marketing today.
Related Blog Posts:
6 Smart Trade Show Tactics Seen at Design West
Trade Show Media Relations: Do's and Don'ts
5 Marketing Activities for Trade Show Success